For each show in our season, PTC offers an opportunity to youth in schools throughout the valley to see professional theatre at an affordable price. There is always a talkback with the cast and those students who choose to stay afterward.
Attending: Marcella Pereda, Ashley Wickett, Mia Bagley, Zoe Heiden, Brigham Inkley, Rebecca Watson, Colleen Baum, Tobin Atkinson, Marza Warsinske, Christopher DuVal, John Ahlin, David Manis, Miles David Romney, Terrell Donnell Sledge, Terence Goodman, Bryce Edward Peterson, T. Ryder Smith
Mediating: Karen Azenberg (or, KA, for this blog entry's purposes)
KA: (Answering a question about the period choice for the piece, which the director has described as "Arthurian" for this show)
For this particular production, the director, Matt August, was looking for something whimsical but not necessarily historically accurate. That way, you know, someone couldn't come back later and say, "I don't think they actually had unicorns in that time period…" There's a lot of stuff going on here, actually, it's not really restrained to a time period – there's even some Japanese anime, so it's a lot of fun. We had our costume designer, Elizabeth Caitlin Ward, we had here for almost two months – which is a really long time for us.
Student Question: I notice that there are many returning actors from this season or past seasons. How do you like being back in Salt Lake?
All out-of-town cast: We love it!
Terrell Donnell Sledge: Salt Lake has great food!
Rebecca Watson: You know, it really says a lot about this theatre and about the city that actors in New York want to come work here at the Pioneer. I run into actors all the time who are like, "Oh, the Pioneer! I loved working there" or "I really want to work there." It has a lovely reputation, you guys can be really proud of that.
KA: (pointing at Rebecca) Do you guys recognize her?
Audience: She's the dead body! The mustache! Something's Afoot!
KA: (pointing at David Manis) How about him?
Audience: A Few Good Men!
He was the judge! And Clybourne Park!! Oh yeah, Clybourne Park, too!
KA: Terrell's been here too, how long ago was it?
Terrell: Two years ago, I think?
KA: Anyone?
Audience: Find and Sign! Oh yeah, he was in Find and Sign!
These kids really know their stuff.
Question: We recently did a production of, ahem, "The Scottish Play…"
KA: Thank you.
Question: And I wanted to ask, with Shakespeare, how do you balance the importance of every single word, versus the speed of the conversation? It seems like there's a tendency to want to make every single word the… most… important… word…
(laughter)
David Manis: That's a really good question, and it's not just a problem for new actors, it's one every actor, I think, struggles with. I would say don't try to make every word important, but maybe every sentence. You want to give an impression of meaning, and not miss the forest for the trees. Remember in The Wizard of Oz, "Some go this way, some go that way, some go both ways"? It's kind of like that – you want to put out the signposts and let people go the way they will.
T.Ryder: I'll tell you guys, though, we were actually talking about this backstage during the show, and you guys really do understand this play better than any audience has so far.
(All the cast members agree; applause from the audience and some cast members, too – way to go, kids!)
KA: Something this cast is really great at, too, is conveying the story physically as well as verbally. That marriage of words with physical actions a lot of times will make a story full and accessible.
Question: How do you learn, or perfect, comedic timing?
T. Ryder Smith: What's that old joke?
John Ahlin: Oh, uh – so, what's the secret to great—
David Manis: TIMING!
(Laughs)
T. Ryder Smith: I think comedic timing is one of those things that can change over time, and in different cultures or generations. Some things that are funny now weren't fifty years ago, and things like that. So you really have to pay attention while you're performing.
Ashley Wickett: T. actually tries a lot of different things while he's performing. I watch him every night and almost every time it's something completely different. It's really fun and exciting to watch him, and see him learn what works.
T. Ryder Smith: And what doesn't work, too!
Miles David Romney: This whole cast's performances evolve from the inside out. Even night to night there are changes, with everyone.
Rebecca Watson: Every audience, too, will find different things funny, and we get to react to that live—it's what's great about live theatre.
John Ahlin: Comedy is also a battle of focus. If there's a distraction
(Here, T. Ryder Smith drops his water bottle on the stage. Loudly. And kicks it.)
KA, John Ahlin, David Manis, and many audience members in unison: Like that!
John Ahlin: … it'll destroy the moment.
Question: We had to do a lot of physical as well as emotional prep for The Scottish Play. How's that different for a comedy?
Colleen: So, I'm wondering why you went in a dark direction with The Scottish Play…?
(laughter) Let's see, I play two different characters in this play, and I get here really early to prep. If you put in the effort, you can be prepped for anything.
Ashley: I would say that any show, whether it's a comedy or a tragedy, I would say that the prep is largely the same. You might do a little bit different of a warm-up or lead-in, but for any genre it's about playing the objectives. It's not about thinking "this is a comedy" or "this is a tragedy," but it's about keeping a goal in mind, and interacting in the moment as to what those goals and objectives are. And really living in that world moment to moment.
Colleen: Ashley actually has to cry onstage every time. And I can see her while she's doing that, I get to see her face. And it's something different she's doing to get to that place every time, it's really refreshing to see and to watch.
KA: I see all of these guys, and others, over the course of a run. And something that's amazing to me is how the drama, or the devastation stays here. They're not in a murderous depression for six weeks. Which might sound silly but it's amazing to me to be able to do that – and that, I think, is part of what keeps it fresh and in the moment, not walking around with it all the time.
Question: what methods do you use to get into character, if you're always changing things up?
Tobin: There's the warm-up, Terrell and David and I crossed paths while warming up just today. What I do is: I warm-up, then I quickly just run all of my lines. Before the show starts, that's my prep. But then, what I really do is, and this is something that happens a minute before I go onstage  – I mean, right before I walk out onto stage, I think: What does this guy want right now? What does my character want – is it to deliver a message? Is it to get this guy out of the doldrums? What's the goal, and I think of that as prep right before I actually do it.
Terrell: People are defined, in every day life, by what matters to them. And it's the same for characters. What does it cost to say this? What are the stakes? What matters to this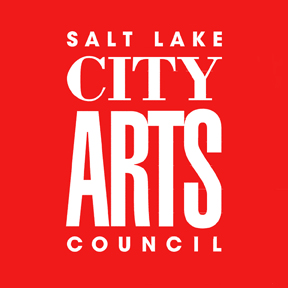 character? We ask that in everyday life as well as onstage.
PTC's Student Matinee Program is supported in part by the Salt Lake County Zoo Arts and Parks Fund,  The Simmons Family Foundation, The Meldrum Foundation Endowment, Salt Lake City Arts Council, and the George Q. Morris Foundation.