Notes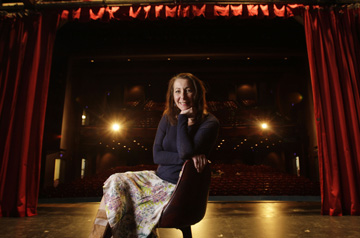 I think these talented ladies quoted below have said it all. I am so grateful to them for creating this wonderful show. It is a rare event when the writers and directors of a show are women – I am honored to have had the opportunity to continue the Cowgirls all-girl team legacy. Maybe in the future that won't be such an unusual occurrence; let's hope so.
Karen Azenberg, Director
Mary Murfitt, Composer/Lyricist:
More than 20 years ago, I had the dream of creating a book musical in which the music would be more plot- driven AND I wanted the cast to be ALL female musician/actor/singers. "Cowgirls" was the realization of that dream but getting there wasn't easy and without being able to collaborate with a supremely talented group of women; Mary Ehlinger (musical arrangements), Betsy Howie (bookwriter), and Eleanor Reissa (director) it never could have happened.
20 years ago… there was no such thing as an Off Broadway or Broadway musical with women in all of the creative positions: Composer, lyricist, bookwriter, director and entire cast.
20 years later…The theme in Cowgirls of women overcoming challenges by working in solidarity, playing, singing and laughing together still resonates with audiences today.
20 years later, the only parts of the Cowgirls script that ever need updating/changing have to do with technology (1995 was pre-Google, pre Smart Phones, and very POST fax machines!) Unfortunately, however, the "feminist issues" raised in Cowgirls and in the theatre in general remain problematic to this day.
20 years later…Women still are not represented sufficiently in the theatre. Only about 25% of produced plays are written by women and perhaps (at most) 10% of musicals.
Eleanor Reissa, Director – Cowgirls Original Production, 1994
Mary Murfitt and Betsy Howie and I worked for a number of years and in a number of productions until Cowgirls became the finely tuned (pun intended), funny, moving piece that it is now. It was an all-girl adventure that used the best of everyone's skill and talent. As with any birth, it was not easy but we all never stopped working to make this the best it could be. We were blessed with a great bunch of cowgirls, in terms of actors, designers, musical directors. I am not surprised that twenty years later this show still resonates (pun intended). I'm thrilled that a couple of hold-outs from the my production are gracing the Pioneer Stage – James Noone, who gave us a kick-butt set design and Lenya Rideout, who twenty years ago was an understudy and today is the lead. I know that Cowgirls is in great hands with Karen Azenberg who is a cowgirl to me.
Mary Ehlinger, Musical Arranger – Original Production, 1994.  Rita – Original Production, 1994. Music Director – Pioneer Theatre Company Production, 2016:
Cowgirls is about turning obstacles into opportunities. And that was mirrored in real life when, rather than replace me, my actual pregnancy was written into the script. I never thought I'd end up originating a role in an Off-Broadway show – much less witness its 20th anniversary production. The Cowgirls journey continues to be a moving exploration of friendship.
---
This production is sponsored by:
Principal Sponsors
with addtional support from