Finally, a little nice weather so the Grease cast could take a field trip last night.
Throwback Thursday at Iceberg!
The Pink Ladies and the Burger Palace Boys enjoyed some shakes and fries—and the stares of some bemused patrons.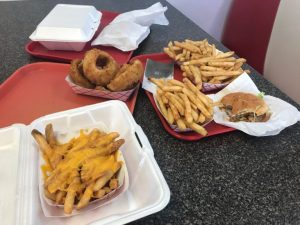 Have you seen the video we made at West High?
In other fronts, I am working on all things next season: staffing, scheduling, design meetings are beginning, and the brochure is in the final stages of preparation. Look for a new banner out in front of our building soon. And, of course, the staff here awaits the arrival of new Managing Director Chris Massamine on July 1st.
I would tell you more, but I'm late for rehearsal.
Don't forget to get your tickets to Grease. And bring your Mom! (Great Mother's Day gift!) Or bring your kids! Or make it a retro date night!