Play a Part in PTC's Success
Help Pioneer Theatre Company in its mission to bring Salt Lake City exemplary theatre.
As a professional nonprofit theatre, PTC relies on the support of our friends and patrons. Earned income (e.g., ticket sales) accounts for about two-thirds of PTC's budget. The remaining one-third must come from contributions.
As some of America's most prestigious arts organizations announce cuts to programming and staffing, your support during this time is crucial. Make a gift today and preserve PTC's ability to produce exceptional theatre.
Gifts to Pioneer Theatre Company provide vital financial support for the theatre. The income generated from ticket sales and other earned revenue sources provides more than two-thirds of the theatre's annual budget. The balance must be raised — and it's our individual donors who play an important part in funding the theatre's productions and programs.
We welcome donations by phone or online. If you need assistance, please contact Director of Development Geoff Doiron at 801-585-3196 or Geoff.Doiron@PTC.Utah.edu.
In addition to the satisfaction of having played an important role in the creation of live, professional theatre, donors to PTC are eligible for the following benefits. All benefits are cumulative and effective as of September 1, 2019.
Contributors ($50 – $249)
Recognition in PTC's playbills for one year.
Enjoy complimentary refreshments in the Patterson Room at intermission.
Name recognition on the lobby monitor acknowledging your support.
Associates ($1,000 – $2,499)
The opportunity to attend either a production's rehearsal or lunch with the actors and concierge service for ticket exchange.
Directors Club ($2,500 – $4,999)
Convenient reserved parking, priority assistance with season ticket upgrades, exclusive theatre events, and membership in the University of Utah President's Club.
Individual Sponsors ($5,000 and above)
The opportunity to direct your gift to sponsor a specific PTC production or project. A special
acknowledgment will be included in the playbill. For more information please contact, Geoff Doiron, Director of Development, at 801-585-3196 or Geoff.Doiron@PTC.Utah.edu.
For further information, email Development@PioneerTheatre.org.
Pioneer Theatre Company welcomes your deferred or planned gifts. These gifts may take the form of bequests, charitable gift annuities, charitable remainder trusts, property, pooled income funds, charitable lead trusts, retirement plans, life insurance policies, and many more.
Generally, planned gifts to PTC are invested in the Pioneer Theatre Company's Endowment. This ensures long-term stability for PTC, giving the theatre a permanent foundation on which to continue its excellence in programming and enhance its already outstanding facilities.
Legacy Giving is an excellent way to leave a legacy and manage your estate concerns.
The University of Utah's Legacy Giving site provides information to assist in learning about the many options available to supporters of Pioneer Theatre Company.
For more information, please contact:
Geoff Doiron
Director of Development
801-585-3196
Development@PioneerTheatre.org
Sponsorship Opportunities
Pioneer Theatre Company has established a national reputation as one of the finest regional theatres in the Intermountain West. PTC's artistic programs can give sponsors broad and premium visibility through media placement and direct marketing, as well as generous ticket and hospitality opportunities. Pioneer Theatre Company Development Office will customize a sponsorship or underwriting opportunity based upon your marketing and community outreach goals.
For more information, please contact, Geoff Doiron, Director of Development, at 801-585-3196 or Development@PioneerTheatre.org.
The program offers the flexibility to customize your own package to fit your public or employee relation needs.
Complimentary Tickets to Productions
Production Preview Tickets (Dress Rehearsal)
Lobby Recognition (Electronic Display)
Playbill Ad
Pre-show Announcement of Sponsorship
Recognition on PTC's Website
Name recognition in radio ads
Name/Logo on transit advertisement
Name/Logo Recognition in eNewsletter, Newspaper Ads, Promotional Emails
Complimentary Refreshments at Intermission
PTC Directors Club and U of U President's Club Membership
Convenient Parking Privileges
Use of theatre's Patterson Room for Pre-show Reception
Social Media recognitions
Name Recognition on Theatre Tickets for Production
Presenting Sponsorship – $50,000
Principal Sponsorship – $25,000
Production Sponsorship – $10,000
Performance Sponsorship – $5,000
We know you have many opportunities to support the organizations, events and causes you care about. With good reason, you make your decisions carefully and with good information at hand. With this in mind, we've created an FAQ to address some of the most frequent questions we are asked about donating to Pioneer Theatre Company.
I support PTC by buying tickets, why should I also donate?
Only about two-thirds of PTC's total budget comes from ticket sales – Individuals, corporations, foundations, and government support make up the remaining one-third. It is only through the support of donors that PTC can continue to bridge the gap between ticket sales and operating costs.
Why doesn't PTC just cut expenses and cover costs with ticket sales?
Without donations, PTC's tickets would cost one-third more and force many patrons to abandon going to the theatre. Other educational programs would also have to be cut back or even eliminated.
Where does my gift go?
Whether it be the professional actors, the nationally prominent directors and choreographers, or the scenery and costumes designed and constructed in PTC's own shop – every dollar of your contribution goes directly to what you see on stage.
Is my donation tax-deductible?
Certainly. Your gift is deductible to the full extent allowed by the law. You will receive an acknowledgment letter and receipt from the University of Utah.
How do I make a gift?
Nothing could be easier! Simply call us at 801-585-3196. You may also 
make your donation online
through The University of Utah's secure server.
What is PTC's tax ID?
PTC operates under The University of Utah's tax ID (EIN #87-6000525). If using this to give from an account, please designate your gift to Pioneer Theatre Company in the memo, instructions, or comments line to ensure correct distribution.

Still have Questions?

Please email to request additional materials, or to contact the PTC Development staff at 801-585-3196. We welcome the chance to discuss your support.
Where does PTC get its revenue and how is it spent?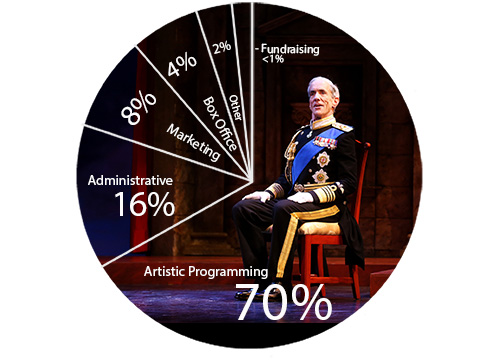 John Hutton in King Charles III
There are many costs associated with producing outstanding professional theatre. When you give to Pioneer Theatre Company, 70 percent of your gift directly supports artistic and production personnel and the creation of the stunning sets and costumes that make our productions so exciting. Pioneer Theatre Company employs the best actors, directors, and designers in the country so we can produce theatre of the highest artistic quality. Your gift also supports Play-by-Play and the Student Matinee Program.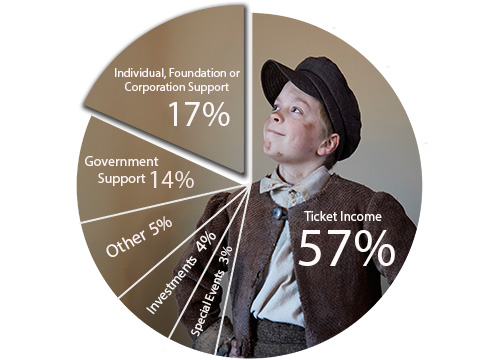 Maxwell Rimington in Oliver!
PTC generates more than $2.3 million annually from ticket sales.  While this represents 57 percent of our annual income, an important piece of the theatre's revenue comes from contributions. Notably, our individual donors are the single largest source of privately contributed funds. The generosity of our donors ensures we provide the best theatre experience possible. This is why your support is so important to the success of Pioneer Theatre Company.
Our Institutional Supporters, Partners & Donors
Support Pioneer Theatre Company