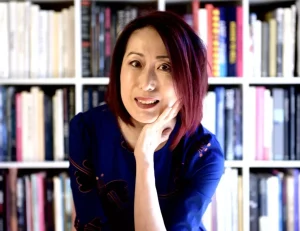 The period think-piece currently on stage, The Messenger, reflects the beautiful work of international designer Yoon Bae who did both the scenic and costume design for the production.
Pioneer Theatre Company sat down with Bae to learn more about her and her creative path.
Bae is currently an Assistant Professor of Scene Design at the University of Kentucky. She received her Bachelor of Arts in Fine Art at Middlesex University in London (formerly Hornsey School of Art). She was introduced to theatre by an inspired professor who, upon seeing her installation work, suggested she look into theatre design. She subsequently won a place to study theatre design at the prestigious drama school, the Royal Central School of Speech and Drama. She later gained her Master of Arts in Fine Art from the Slade School of Fine Art at University College London.
Looking back now, Bae laughs at how naive she was. "I knew nothing about theatre, but having a professor who I trusted, who saw something in me that I couldn't see myself, was really inspiring. It made me look seriously at the theatre for the first time. My friends were all studying architecture, art, and fashion, so I had no one out there to guide me or show me the way. But I went exploring."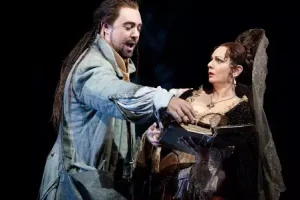 The first show she saw was Sunset Boulevard, designed by Tony Award-winner John Napier.
"It reminds you how small the world is," Bae says. "John is responsible for some of the most incredible designs in contemporary theatre, from Cats to Les Misérables, and Starlight Express."
Napier, also a graduate of Hornsey School of Art, would later take Bae on as his assistant, then associate, and finally as a collaborator and co-designer. They remain friends to this day.
"My favorite thing that he [Napier] says is 'I don't do sets.' This is really part of my aesthetic, too. Coming from a fine arts background, I try to bring an artistic response, a metaphorical understanding, to the play rather than building a room. I am not much interested in naturalism. I am creating a world where the story unfolds; the space is also part of the storytelling: my spaces are not passive. My costumes are styled and colored to advance the story and reveal or suggest character," states Bae.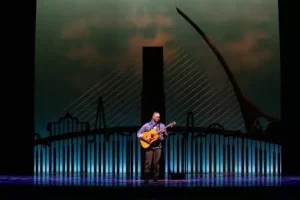 This was never more evident as it was when Bae was designing our production of Once: "When I was designing Once for PTC a few years ago, I wanted to capture the idea that the music was the whole world of the story. I remember improvising in my model box; this idea of the skyline made of piano keys came to my mind. Then the floor, this vast revolve, would be the center of a guitar. These ideas, and others, brought the design together," she says.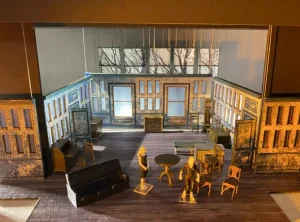 When creating, Bae uses scale models along with graphic design software. She learned to design using the physical models so that everything is perfectly in proportion.
"It's a place to play, to try out ideas, to prototype your design in relation to the architecture of the building, the scale of the human form, and the experience of looking at your work as it will be, this is so different to looking at a digital rendering, although I use that, too."
That box becomes a template to build from, including size, color, and form.
Bae explained that studying scenic design in Britain differs from in the States. In the States, it is not common to do both costume and scenic design for the same production, but in Britain, it is common to do both. She explained when you train to be a designer in Britain, you choose to study costume and scenic design or lighting and sound. Bae chose costume and scenic design. Another difference she detailed is that scenic design students in Britain take a more speculative approach to design.
"I was encouraged to think like a designer, to play, to get it wrong, and to immerse myself in the process and not worry about the destination. It was very freeing," she says.
When creating the set design for The Messenger, Bae worked closely with Jeff Talbott, the playwright. They had many meetings, and Talbott was a great collaborator. Bae explained that he truly loved what she was creating and wasn't just giving her positive feedback, 'to be nice.'
"That doesn't help anybody," Bae says, "It's so thrilling to have a playwright who is living and still evolving the story. To talk with the playwright regarding the world. It helps embody the design. It makes the world of the play a character too, and as I explored ideas and how they might be realized, that started appearing in the script too. This organic collaboration makes really my work such fun."
This is Bae's third production at PTC. She previously created an extraordinary and original scenic design for Once, and she also created costumes for Once on this Island. Since Bae has worked with PTC's costume and scenic shop before, she knows the facilities very well. She also knows how talented the staff is and that both shops respect the designer's view.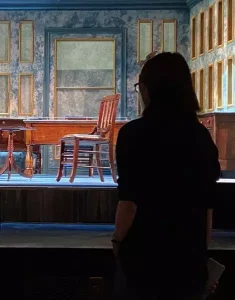 She has been a visiting professor at various institutions, including Royal Central School of Speech and Drama, Rose Bruford College, Central Saint Martins, University of Arizona, and Oklahoma City University.
Bae's theatre designs have been seen in the USA, UK, Korea, Japan, and Norway. She is a member of British Equity, The Society of British Theatre Designers and United Scenic Artists Local USA 829 IATSE, and the Consortium of Asian American Theaters and Artists & Wingspace Theatrical Design. yoonbae.com