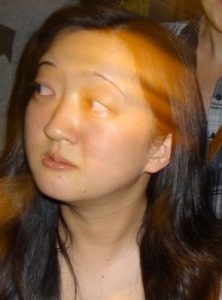 Our opening night blogger, Lansia Wann attends PTC's openings as often as we can convince her to, and in return for an invite to the cast party, writes a post about the cast. We never know what we're going to get.
Here's what she learned about other "plays gone wrong" from the cast of PTC's The Play That Goes Wrong.
Happy Accidents
Growing up, you always hear, "learn from your mistakes." And occasionally when something goes wrong, I've been told to just "laugh it off."
Well, as they say, "laughter is the best medicine" and the Mischief Theatre Company must have taken that to heart when they wrote The Play That Goes Wrong. If the title didn't give it away already, know that everything, everything goes wrong in this play within a play – on purpose, of course.
I won't give away more than that but The Play That Goes Wrong won several awards including a Tony for Best Scenic Design, Laurence Olivier Award for Best New Comedy, and BroadwayWorld Award for Best Play. Critic Quentin Letts of the Daily Mail gave it five out of five stars and it's even been translated and licensed for production in more than 20 countries. The Play That Goes Wrong certainly did something right.
So, embracing that same philosophy, I asked a few cast members what went wrong in their lives that ended up turning out right. Here are their stories…
Harrison John Lind (Cornley Polytechnic Stage Crew)
In a production of Love's Labour's Lost, Harrison played a servant character that had a one-two-liner during a 12-minute long scene. I call out his brevity in the scene because he stands there for the entirety of the scene after he says his quick one or two lines. Though, just before the scene, he needed to collapse a giant ladder for a set change.
"One night, I was moving the ladder and I caught that part that hinges the ladder – caught it right on that sensitive part of skin between my pointer finger and thumb – this huge gash right in the middle of this huge scene. So I said my line and had to just stand there in the corner for this entire scene for 12 minutes with this open wound."
There's nothing like a bleeding heart hand to really implement those acting chops in the middle of a little Shakespeare.
Morgan Werder (Cornley Polytechnic Stage Crew)
Morgan played a bride recently in another very physical show called Big Love. Imagine, if you will, brides running around on stage rambunctiously trying to escape marriage. There are balloons being popped, vases being thrown, people dancing, singing, jumping around…
"My first action is popping these balloons which require this twisting of my body in a really tight wedding dress. It wrapped around one of my legs so when I made this throw to pop a balloon, my knee just came right out of its socket and I collapsed like a scarecrow… I had this big wedding dress on so no one could see that my knee was dislocated, no one could see what the problem was… Everyone kept going and I had to throw a vase next so I just popped [my knee] right back in, jumped up on my legs, ran, and threw this vase against the wall. For the rest of the show, I was grabbing onto people's arms and digging my nails into them and going, "My knee's broken, my knee's gone." No one understood me."
There was no intermission. Morgan limped along through the entirety of the show. "It's crazy how much of that is an animal instinct," she says. No wonder I always hear actors are a crazy bunch.
Jessica Weyman (Cornley Polytechnic Stage Crew)
In a play last year, Jessica lost her voice and needed an assistant director to read lines offstage while she lip-synced. It was all going well until…
"I had to kiss my scene partner… [the assistant director] read my line, while we were kissing. And the entire audience just lost it! I don't usually get laughs. I normally don't play a character that gets laughs and everyone was having a great time. So, I thought, "Finally! People like me!" It was a great experience."
Eric Santagata (Dennis/Perkins)
During college, Eric was in a play about George M. Cohan, a man dubbed "the man who owned Broadway" and considered the father of American musical comedy. The play featured a large dance number called "Popularity," where Eric would come on stage and undress little by little as it went on. It was an on-stage costume change, people! tsk, tsk!
"At the very end of the number, I was supposed to jump out of this trunk in a sailor costume, standing [front and] center, saluting while it plays a big anthem. Well, the costume change didn't go so well and as I'm saluting dead center, my pants start to fall. And they are falling and falling… there's nothing I can do about it. I'm frozen with my hand up to my forehead saluting while the George Cohan character is singing this glorious song downstage and there I am… with my sailor pants halfway down around my ankles. Needless to say, we got stronger Velcro."
It was purely foresight and preparation for his time at Pioneer Theatre now though. He comments, "It's a lot like what happens in the [Play That Goes Wrong]."
Brandon Contreras (Jonathan/Charles Haversham)
When Brandon just turned 20, he got his dream show. He was a male swing – basically an offstage backup actor – for the first national tour of In the Heights. As a newbie, he covered seven different roles that tour. And, during one of the first few times he went on stage, it was in the middle of number during a costume change.
"They change really quickly and come out in different 1940s Cuban clothes. This actor, just before the song starts, says, "I have to get out… I can't do the rest of the show." I remember going out on stage just being so frightened and nervous because I was still new to the company and I had only done this track one other time before… As I'm stripping off all my clothes… I just remember I got to stage right and I [need to wait] for the [actor's] mic pack. I can't put on my clothes until I have my mic pack on. So, I'm standing there in my socks and my underwear, nothing else. Somehow, magically, with the help of eight different legs and arms, I was able to make this 20-second quick change."
Brandon learned quickly to trust in his castmates, and after that experience, he advises, "Know that if you are trusting, other people can trust you as well."
Ruth Pferdehirt (Sandra/Florence Colleymore)
A little more than 11 years ago, Ruth took the subway home after a very bad date. As she looked around the subway car, she saw a guy clearly memorizing lines and looking at a script.
"It was during the New York Musical Theatre Festival – the NYMF festival. And I think I was just kind of sad and kind of lonely. So I asked, "Are you in a NYMF show and is it any good?" And, he said, "I am in a NYMF show and it is very bad." We started talking and we exchanged numbers… I think that crappy date left me more open to meeting someone on the subway, and now we've been together for 11 years and married for three."
William Connell (Chris/Inspector Carter)
William was the first person to greet this mess-of-a-gal when he showed up to an audition early. This young lady walks into the room in kind of a huff, bags, multiple layers, and asks William, "Is this where the audition for this thing is? Where's the sign-in?"
"She signs in her name but she's in such a huff that she literally, BOOM, walks right into a wall. Without missing a beat she says, "There's a wall there." [She] grabs her stuff, goes down the hallway… Fifteen minutes later, other ladies come in and out [of the hallway]. Then, this woman comes down the hall wearing this strapless dress that is about mid-thigh, hair is all va-va-voom. And… it's the same woman."
I feel like you can tell where this story goes… That same woman is now William's wife, Hanley Smith.
Find The Play That Goes Wrong at Pioneer Theatre Company until December 21, 2019.