January 27 – February 11, 2023
By
Kareem Fahmy
Directed by
Giovanna Sardelli
A World Premiere in Association with TheatreWorks Silicon Valley
A sleepy library built atop the U.S./Canada border becomes an unlikely meeting place for separated families. Winner of the Next Act! New Play Summit, Fahmy tells the story of five people from different countries and cultures choosing between breaking the law or saving themselves, while trying desperately to understand one another. Alliances are built and broken, borders are straddled, but love and human connection prevail. 
Contains strong language.
Tickets are no longer available for this show.
Monday – Thursday , 7:00 PM
Friday & Saturday, 7:30 PM
Saturday, 2:00 PM

*Members of the Actors' Equity Association
KAREEM FAHMY (Playwright) Kareem Fahmy is a Canadian-born playwright and director of Egyptian descent. He received the 2022 Woodward/Newman Playwriting Award (American Fast), has a NYSCA/NYFA Playwriting Fellowship, the Janet Sloane Literature Residency at Yaddo, is a two-time finalist for the National Showcase of New Plays, and was named a Rising Leader of Color by TCG. His plays include American Fast (Rolling World Premiere: Artists Repertory Theatre, City Theatre, InterAct Theatre), A Distinct Society (Pioneer Theatre Company, TheatreWorks Silicon Valley, Writers Theatre), Dodi & Diana (Colt Coeur, O'Neill NPC Finalist), Pareidolia, The In-Between, and an adaptation of the acclaimed novel The Yacoubian Building. Kareem's work has been seen at Atlantic Theatre Company, Denver Center, Northlight Theatre, Capital Repertory Theatre, New York Stage & Film, and more. Co-founder/Chair of the Middle Easter
GIOVANNA SARDELLI (Director) Besides Sardelli's well-received productions with TheatreWorks Silicon Valley, where she is the Director of New Works, she has directed and developed plays around the country, including many off-Broadway productions. Sardelli's directing credits include many collaborations with Matthew Lopez and Rajiv Joseph, including the production of Joseph's Obie Award-winning play Describe The Night at Atlantic Theatre, and her production of  Joseph's Guards at the Taj for the Geffen Theatre, which won the 2016 Ovation Award for Best Production of a Play. She recently directed the Marvel podcast Squirrel Girl: The Unbeatable Radio Show!, which you can check out anywhere you listen to podcasts. Sardelli holds an MFA in Acting from New York University's Tisch School of the Arts and taught in NYU's Graduate Acting Program as well as its Dance Department for over a decade.
JO WINIARSKI (Scenic Design) Jo's previous designs at PTC were Ass, The Lifespan of a Fact, and Ain't Misbehavin'. Jo's Off-Broadway credits include HYPROV, Accidentally Brave, The Absolute Brightness of Leonard Pelkey, and Love, Loss, and What I Wore. Regional design credits include Guthrie Theater; Arizona Theatre Company; Utah Shakespeare Festival (over 40 shows); The Old Globe; Berkeley Repertory Theatre; Oregon Shakespeare Festival; Dallas Theater Center; and Geva Theatre Center. Additional credits include Wishes for Disney Cruise Line. Jo was the art director on Late Night with Seth Meyers (episodes 1-844), and received an Emmy nomination for  art direction for A Colbert Christmas: The Greatest Gift of All.
DINA EL-AZIZ (Costume Design) [She/Her/Hers] Target Margin projects include One Night, P*ssyC*ck Know Nothing, Marjana and the Forty Thieves Pay No Attention To The Girl; Regional Theater: Selling Kabul (Seattle Rep); Unseen (OSF); When Monica Met Hillary, (Miami New Drama); This is Who I Am (OSF/Woolly Mammoth/The Guthrie/ART/PlayCo); 9 Parts of Desire (Portland Center Stage); King Lear (Northern Stage); Noura (The Guthrie); Noura (The Old Globe); Selling Kabul (Williamstown Theatre Festival). Off-Broadway: Weightless (WP theater), The Vagrant Trilogy (The Public Theater); Spindle Shuttle Needle (Clubbed Thumb); Heartland (Geva Theater/59E59); First Down (Noor Theater/59E59); Hindsight (Fault Line Theater); Design for Stage and Film M.F.A. – NYU Tisch School of the Arts. www.DinaE.me
PAMILA Z. GRAY (Lighting Design) has been a working designer for thirty years, designing over 300 musicals, opera, plays and industrials. Her designs have been seen in Los Angeles, Portland, Houston, Dallas, Chicago, Sacramento, Ft. Lauderdale, Colorado Springs, Minneapolis/St. Paul, Washington, D.C., and the San Francisco Bay area. Her work includes the world premieres of My Antonia, Kept, and Baby Taj for TheatreWorks; Western Star for CLO of South Bay Cities; Metamorphosis: Junior Year for Palo Alto Children's Theatre; the American premiere of The 3 Musketeers for American Musical Theatre of San Jose; and the West Coast Premiere of Silent Night for Opera San Jose. She has been rewarded with Bay Area Critic's Circle Awards, Dean Goodman Awards, and Dramalogue Awards. Ms. Gray is a graduate of Northwestern University and is a member of United Scenic Artists.
ELTON BRADMAN (Sound Design ) Everett Elton Bradman's 2021-2022 composer/sound designer credits include world premieres (Lear at Cal Shakes), West Coast premieres (Trayf and Mindplay at the Geffen Playhouse), audio dramas (Aurora Theater's The Bluest Eye), student productions (UC Riverside's Red Oleanders), Zoom theater (Actors Theaters' Romeo & Juliet: Louisville 2020), podcasts (Z Space/Word for Word's Retablos trilogy), filmed theater (San Francisco Playhouse's Hieroglyph), hybrid visual/audio (New Conservatory Theater Company's Interlude), and outdoor performances (Oakland Theater Project's The Waste Land). Other recent adventures include teaching an online undergraduate course in theatrical sound design, and co-writing a musical for Bay Area Children's Theater and the Rose Theater in Omaha, Nebraska. Stop by and say hello at EltonSounds.com!
SAMANTHA WOOTTEN (Wig and Makeup Design) is excited to continue another season with PTC and the University of Utah as Wig Master. Previous career highlights include Wig Designer for the Utah Opera and Santa Fe Opera, Wig Master for the Washington National Opera, Wig and Makeup Designer for Glimmerglass Opera, Associate Wig Master for Los Angeles Opera, and Wig Master for the Repertory Theatre of St. Louis.
SARAH SHIPPOBOTHAM (Dialect Coach) is an actor, dialect coach, intimacy consultant, and Professor in Acting and Dialects at the University of Utah. Sarah trained as a Voice and Dialect Coach at The Central School of Speech and Drama in London. Her work as Dialect Coach for PTC includes Fireflies, Once, Miss Bennet: Christmas at Pemberley, Sweeney Todd: The Demon Barber of Fleet Street, Oslo, The Curious Incident of the Dog in the Night-Time, The Last Ship, and Oliver!. Other Dialect/Voice coaching credits include eighteen seasons with the Shaw Festival (Canada), and shows for Salt Lake Acting Company including Sleeping Giant and Passing Strange. 2011/12 Sarah spent 7 months in New Zealand working as a Dialect Coach on The Hobbit films.
EMILY NACRISSA GRIFFITH* (Stage Manager) Emily has worked with Pioneer Theatre Company for six seasons. She graduated from UVU with multiple awards for her work, including the Kennedy Center's Meritorious Achievement Award. She has also managed Sundance's Summer Theatre for the past two seasons.
TRACEY WOOLLEY* (Production Stage Manager) Some favorite credits include Blue Man Group, Cirque Du Soleil's Mystere, Dragone's Le Reve (Las Vegas); Off-Broadway: The Book of Merman (St Luke's Theater), Verso (New World Stages), The Brobot Johnson Experience (Bushwick Starr); Heathers (New World Stages); Phoenix (Cherry Lane Theatre); 1st National Tour of The Lincoln Center Production of South Pacific, The HipHop Nutcracker; Regional: The Buddy Holly Story, Thoroughly Modern Millie, Grease, The Witches of Eastwick – National Premiere (The Ogunquit Playhouse), The Last of the Red Hot Lovers (The Cape Playhouse). Proud member of AEA, but even more proud to be a member of my family. Love you guys! CTR
BOB CLINE (Casting) is the founder of Bob Cline Casting in New York. He has cast film, TV, commercials, over 75 national tours, and numerous regional theaters across the country. He has been associated with the casting for PTC for many years. Cline is currently a proud faculty member in Pace University's theatre program, in charge of the senior BFA musical theatre majors. He is the Associate Director of Broadway Artists Alliance, enjoys working with The Open Jar Institute, and often teaches through The Growing Studio and The Actor's Loft.
PIONEER THEATRE COMPANY (PTC) Now celebrating its 61st season, the award-winning PTC is Utah's premiere professional theatre company and leading arts organization of the West. Led by Artistic Director Karen Azenberg and Interim Managing Director Diane L. Parisi, PTC presents world-class productions that celebrate diversity in culture and society and serve as the connecting bridge between art and scholarship as an affiliate of the University of Utah. 
ACTORS EQUITY ASSOCIATION (AEA) Founded in 1933, AEA represents more than 51,000 professional Actors and Stage Managers nationwide. Equity seeks to foster the art of live theatre as an essential component of society and advances the careers of its members by negotiating wages, improving working conditions and providing a wide range of benefits, including health and pension plans. Actor's Equity is a member of the AFL-CIO and is affiliated with FIA, an international organization of performing arts unions. #equityworks
*Member of the Union of Professional Actors and Stage Managers in the United States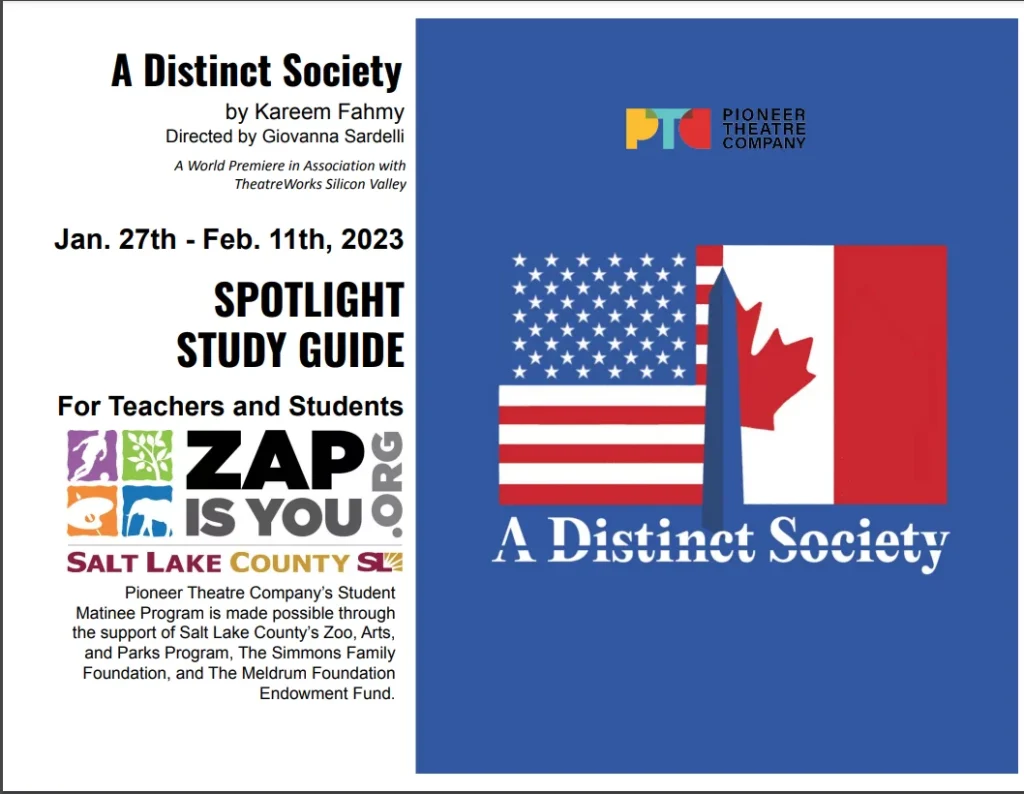 YNOPSIS:  A quiet library that sits on the border between the U.S. and Canada becomes the convenient meeting place for five people from around the world, who, due to restrictions on travel, are not able to easily and freely meet otherwise. Manon, the dedicated librarian, navigates the current border regulations with her own sense of right and wrong.   
LANGUAGE: The characters speak in contemporary style, often invoking a variety of swears and exclamatory oaths that some patrons might find discomfiting.
SMOKING AND DRINKING: There is a small amount of smoking and drinking. 
SEX: None.
VIOLENCE: There are tense moments as the border patrol challenges the events in the library and a prop gun is used.
FOR WHICH AUDIENCES?:  A Distinct Society contains mature subject matter and is suitable for teens with parental supervision. 
RATING: If A Distinct Society were a movie, it would be rated "R" for language.