April 1—April 16, 2022
By
Matthew Barber
Retired schoolteacher Eleanor Bannister lives a quiet life alone in tiny Groverdell, Texas, and is set in her routine, and secure in her position as the town's most respected woman. A hole in her roof draws the attention of Abel Brown, a smooth-talking drifter intent on renovating Eleanor's house, and possibly her life. It's a well-told story of tentative, late-life love.
Tickets are no longer available for this show.
Monday – Thursday , 7:00 PM
Friday & Saturday, 7:30 PM
Saturday, 2:00 PM
Emma Eccles Jones Foundation
KAREEM FAHMY (Director) is a Canadian-born director and playwright of Egyptian descent. He has developed and directed work at Atlantic Theatre Company, New York Theatre Workshop, MCC, Ensemble Studio Theatre, The New Group, New Dramatists, Geva Theatre, Portland Stage, Northlight, Silk Road Rising, San Diego Rep, Berkeley Rep, and more. Upcoming: The World Premiere of Victor Lesniewski's The Fifth Domain (developed at PTC's Play-by-Play) with Contemporary American Theatre Festival. Fellowships/Residencies: Sundance Theatre Lab, The Old Globe (Classical Directing Fellow), Oregon Shakespeare Festival (Phil Killian Directing Fellow), The O'Neill (National Directors Fellow), Second Stage (Van Lier Directing Fellow), SoHo Rep (Writer/Director Lab), Lincoln Center (Directors Lab). Kareem is Co-Founder and Chair of the Middle Eastern American Writers Lab. MFA in Theatre Directing: Columbia University. www.kareemfahmy.com
PAIGE HATHAWAY (Set Designer) is based in the Washington, DC area. She has designed regionally at The Muny in St. Louis, Asolo Rep in Sarasota, Arden Theatre Company in Philadelphia, and People's Light in Malvern, PA, among others. In the Washington, DC area she has designed at the Kennedy Center, Arena Stage, Signature Theatre, Round House Theatre, Theater J, Imagination Stage, Studio Theater, Woolly Mammoth, and Olney Theatre Center. Her upcoming productions include Mary Poppins at The Muny, The Three Musketeers at Cleveland Playhouse, and the World-Premiere of The Upstairs Department at Signature Theatre. She received her BFA from the University of Oklahoma and her MFA from the University of Maryland. She is a member of USA 829. Her website is www.paigehathawaydesign.com
BRENDA VAN DER WIEL (Costume Designer) is part of the design faculty for the University of Utah Theatre Department and serves as head of the Performing Arts Design Program. She designs regularly for that department as well as for PTC, Utah Shakespeare Festival, and The Alabama Shakespeare Festival. Her work at PTC includes Sweeney Todd, Fences, Outside Mullingar, Alabama Story, Rent, and Emma. Some favorite designs for the Alabama Shakespeare Festival include Annie, A Midsummer Night's Dream, The Little Mermaid, Mary Poppins, Macbeth, Much Ado About Nothing, The Comedy of Errors and The Count of Monte Cristo. Her work at Utah Shakespeare Festival includes Mary Poppins, Treasure Island and A Midsummer Night's Dream.
CHA SEE (Lighting Designer) is from Manila, Philippines. Off-Broadway credits: The Fever (Audible Theatre); one in two (Signature Theatre); What To Send Up When It Goes Down (ART/NY, NE Region Tour: Woolly Mammoth, a.r.t. Boston. Other shows include: The Alchemist (Red Bull Theater); The Maturation of an Inconvenient Negro (Cherry Lane); Nora (The Juilliard School); House Plant (NYTW Next Door); Then They Forgot About The Rest (Intar); The Antelope Party (Wild Project). Regional: Change Agent (Arena Stage); The Great Leap (Portland Center Stage) EVERYBODY (Play Makers Rep); Marisol (Trinity Rep); On The Grounds of Belonging (Long Wharf Theatre); America V2.1 (Barrington Stage); Legacy Land (Kansas City Rep). Upcoming: Soft (MCC Theatre); Exception To The Rule (Roundabout Theatre); Sanctuary City (Berkeley Rep); On That Day in Amsterdam (Premiere Stages); Dom Juan (Bard Center); Fireflies (PTC); The Paper Dreams of Harry Chin (Indiana Rep). Training: MFA NYU Tisch. seelightingdesign.com
MICAH MAXSON (Live Mix Engineer) Micah hails from Ogden, Utah where in three years he earned his BA in Theatre Arts, emphasizing in Sound Design, at Weber State University. During his time there, Micah facilitated his education by honing his skills as an audio engineer, working for premier audio production companies in the Salt Lake area, in addition to working directly for performance venues across the Wasatch Front. After graduating in 2018, Micah went on to work with Carnival Cruise Line in an international capacity as a production engineer and audio technician, facilitating hundreds of shows across dozens of Caribbean ports. Micah is happy to be home and remembers fondly attending PTC shows as a high school student where he proudly works now.
SAMANTHA M. WOOTTEN (Hair & Makeup) is excited to join PTC and the University of Utah as Wig Master. Previous career highlights include Wig Master for the Washington National Opera in D.C., Wig and Makeup Designer for Glimmerglass Opera in N.Y., Associate Wig Master for the Los Angeles Opera in CA, and Wig Master for the Repertory Theatre of St. Louis.
MARY P. COSTELLO (Stage Manager) has worked on over 60 productions during 11 seasons with PTC. Favorites include Sting's The Last Ship, Sweeney Todd: The Demon Barber of Fleet Street, Les Misèrables, In the Heights, Next to Normal, and Rent. Other stage management teams: Indiana Repertory Theatre, Connecticut Repertory Theatre, Boston Theatre Works, Grand Valley Shakespeare Festival, and the Utah Shakespeare Festival. Proud Equity member. #blacklivesmatter #translivesmatter
EMILY NACRISSA GRIFFITH (1st Assistant Stage Manager) graduated from Utah Valley University with a Bachelor of Science in Theatre Arts with emphases in performance and design/technology. Griffith earned the Kennedy Center's Meritorious Achievement Award for her work as the production stage manager of UVU's Next to Normal, which received the Kennedy Center American College Theatre Festival national award for Outstanding Production.
KELSEY JAMES (Assistant Stage Manager) is happy to be returning to Pioneer Theatre Company where her credits include previous Play-by-Play readings The Fifth Domain, Art & Class, Requiem for August Moon and Perpetual Girl and Assistant Stage Manager for In the Heights ­­– Concert Edition. Other regional stage management credits include: My Fair Lady, West Side Story, Fiddler on the Roof, The Winter's Tale, Henry IV Pt. I and Julius Caesar (Arkansas Shakespeare Theatre); Swing! The Musical (Little Theatre of the Rockies) and a collection of Cabaret productions (Florida Studio Theatre). She is a graduate of The University of Iowa stage management MFA program and a proud member of Actors' Equity Association.
MATTHEW BARBER (Playwright) is a UCLA graduate. His stage play Enchanted April premiered in 2000 at Hartford Stage and opened on Broadway in 2003. Current work includes the stage play Fireflies, which premiered in 2017 at Long Wharf Theatre (Edgerton Foundation New Play Award), and two screenplays — the original historical drama Independence, and a film adaptation of his stage play Enchanted April. Work in development includes the stage plays The Forces and Dark Age, and a musical stage adaptation of Enchanted April. Matthew has been a participating playwright in Broadway's 24 Hour Plays event to benefit Urban Playground, is the recipient of Wurlitzer Foundation and Art OMI fellowships, and is a member of the Dramatists Guild of America.
BOB CLINE (Casting) is the founder of Bob Cline Casting in New York. He has cast film, TV, commercials, over 75 national tours, and numerous regional theaters across the country and has been associated with the casting for PTC for many years. Cline is currently a proud faculty member in Pace University's theatre program, in charge of the senior BFA musical theatre majors. He is the Associate Director of Broadway Artists Alliance, enjoys working with The Open Jar Institute, and often teaches through The Growing Studio and The Actor's Loft.
PIONEER THEATRE COMPANY (PTC): Now celebrating its 60th season, the award-winning PTC is Utah's premiere professional theatre and a leading arts organization of the West. Led by Artistic Director Karen Azenberg and Interim Managing Director Diane L. Parisi, PTC promotes community-building and education through presenting world-class productions; developing new socially resonant and universal work; hosting talks, lectures, and workshops that engage a versatile and inclusive demographic, while celebrating diversity in culture and society; and serving as the connecting bridge between art and scholarship as an affiliate of the University of Utah.
ACTORS' EQUITY ASSOCIATION (AEA): founded in 1913, represents more than 51,000 professional Actors and Stage Managers nationwide. Equity seeks to foster the art of live theatre as an essential component of society and advances the careers of its members by negotiating wages, improving working conditions and providing a wide range of benefits, including health and pension plans. Actors' Equity is a member of the AFL-CIO and is affiliated with FIA, an international organization of performing arts unions. #equityworks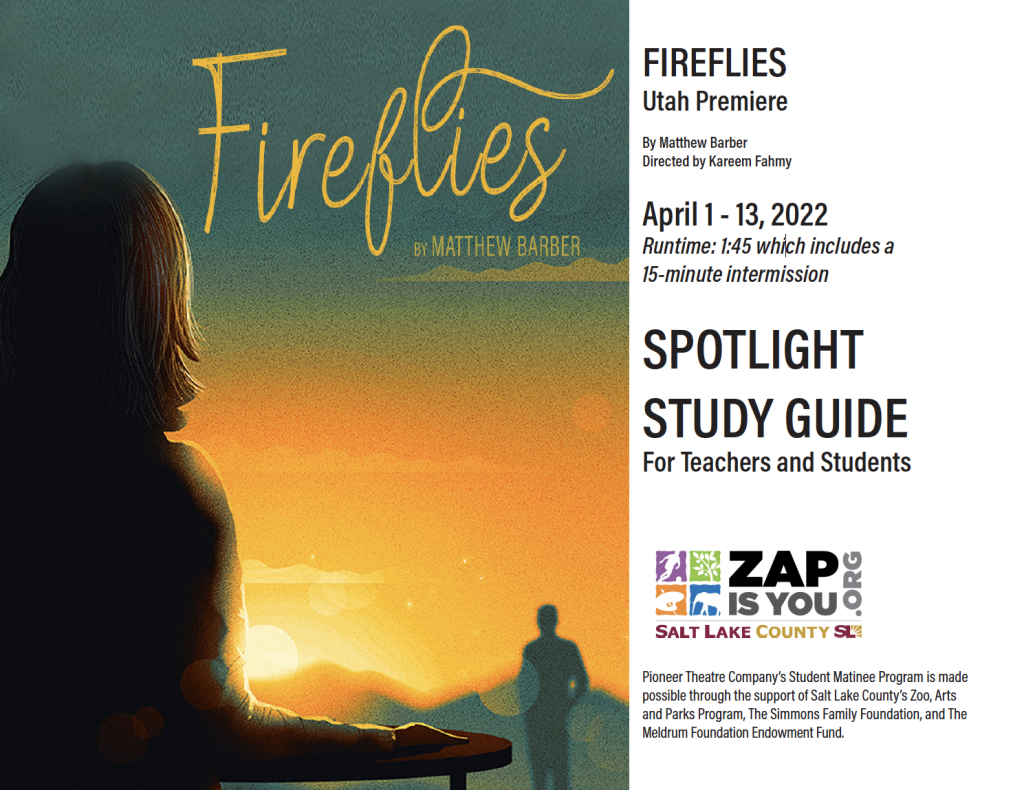 SYNOPSIS: A retired schoolteacher lives a quiet life in Texas, and is set in her ways. She's highly respected in town. A smooth-talking handyman passes through, intent on renovating her house. Their lonely and stubborn personalities don't prevent them from having feelings for each other but they still have things to learn about their lives before determining if they belong together – and making the decision to find love.
LANGUAGE:  A few mild uses of "damn."
SMOKING AND DRINKING:  There is no smoking and a few instances of wine with dinner.
SEX:  None depicted but there is chaste reference to one night of passion.
VIOLENCE: None.
FOR WHICH AUDIENCES?  Fireflies is suitable for all ages, although young children may be bored by a love story between two older adults..
RATING: If it were a movie, Fireflies would be rated "PG."