March 3—March 18, 2023
Music & Lyrics by
Stephen Sondheim
Devised by
Stephen Sondheim and Julia McKenzie
Directed & Choreographed
by Gerry McIntyre
A musical tribute to Stephen Sondheim, the greatest composer and lyricist of the 20th century.
The scene for this revue by legendary composer Stephen Sondheim includes some of his biggest songs from Sunday in the Park with George, Company, Sweeney Todd, Into the Woods, A Little Night Music, and more! Sit back for an evening of lyrics filled with wit and complexity, and enjoy the party put together by the greatest musical theatre composer of all time!
Runtime: 1 hour 50 minutes, including a 15-minute intermission
Tickets are no longer available for this show.
Monday – Thursday , 7:00 PM
Friday & Saturday, 7:30 PM
Saturday, 2:00 PM
Emma Eccles Jones Foundation
GERRY MCINTYRE (Director/Choreographer) acclaimed for his choreography in the Berkshire Theatre Group's Godspell. Associate Artistic Director of the York Theatre in NYC. Director: Hallelujah Baby at The York; Kinky Boots at The Hangar Theatre; Once on this Island at Martin Beck Theatre, Virginia Stage, Pioneer Theatre, Actors' Theatre of Louisville, La Mirada Theatre (Robby Award, Best Director; Ovation nom., Best Choreography and Best Musical). Choreographer: Ain't Misbehavin', Anything Can Happen in the Theatre. Side by Side, Tommy, and My Fair Lady at the Berkshire Theatre Festival; Laura Comstock's Bag-Punching Dog, The Color Purple at Broadway Sacramento, and The Wiz. Performer: OBC of Once on This Island, Anything Goes with Patti LuPone, and one of three Americans cast in Joseph and the Amazing Technicolor Dreamcoat with Donny Osmond. 
PHIL RENO (Musical Director/Conductor) has been Musical Director/Conductor for numerous Broadway shows: Something Rotten!; Elf!; Promises, Promises; The Drowsy Chaperone; The Producers; Thou Shalt Not; Dame Edna: The Royal Tour and Back With a Vengeance; Cats. Phil also conducted the Rockettes for six seasons at the Radio City Christmas Spectacular. National Tours: Joseph… (with Donny Osmond); original company Music of the Night; Starlight Express; Bob Fosse's Sweet Charity. Off-Broadway: A New Brain; Nightmare Alley; Enter Laughing; Chess. Phil has conducted seven original cast albums and is a two-time Grammy nominee as producer of the Something Rotten! and The Drowsy Chaperone cast recordings. Previously at PTC: Sweet Charity, Chess, The Will Rogers Follies, Dirty Rotten Scoundrels, Sweeney Todd, and Hello, Dolly!.
YOON BAE (Scenic and Costume Design) Previously for PTC, Bae designed costumes and set for The Messenger, the sets for Scapin and Once, and costumes for Once On This Island. Other credits include Don Giovanni (Welsh National Opera), Candide (Tokyo), Closer (Seoul), Oedipus El Rey, The Great Gatsby, Three Sisters, The Importance of Being Earnest, Emma, The Sunshine Boys, Evita, Murder On The Orient Express, The Magic Flute, Anything Goes, As You Like It. UK world premieres include Running the Silk Road (Barbican), Three Thousand Troubled Threads (Edinburgh International Festival), Bedevilled (Crucible), Disconnect, Caridad Svich's Archipelago, and Howard Barker's Wounds To The Face. She is a professor at the UNCSA, and a member of Local USA 829 and Wingspace. YoonBae.com
HERRICK GOLDMAN (Lighting Designer) Designs theater, dance, events, film, architecture. Honored with 2020 Drama Desk Nomination (Best Lighting, Musical): Einstein's Dreams; Redden Award (Excellence in Theatrical Design); Henry Hewes nominations: Rooms and Falling for Eve; Big Apple Award (Best Event Lighting); The Live Design Excellence Award (Best Theatrical Lighting Design). Dozens of Off-Broadway and regional shows. Former instructor at MIT, designed Madame Tussauds, and Saxony Nightclub in Miami. Recent: Puffs, Indecent (Cape Rep); Tinga Tinga (New Victory NYC); Alice (Pittsburgh Ballet); Wizard of Oz (Syracuse Stage); and Twitter Up Front. Corporate clients include: Booz Allen Hamilton; Camp Stores; eBay; Johnson Controls; Rolex; Chrysler; and more.  Herrick has designed on every continent except Antarctica. His work can be seen at HGLightingDesign.com. Principal designer: EvokeCollaborative.com. Member, USA/IATSE 829.
AARON HUBBARD (Sound Designer) is enjoying his 15th season with Pioneer Theatre Company in sound mix and design. His favorite productions have been Sting's The Last Ship, Sweeney Todd: The Demon Barber of Fleet Street, Next to Normal, and One Man, Two Guvnors. Aaron teaches sound production and recording at Weber State University, and in his spare time he records and produces music. His favorite star is his wife, Melissa, who puts up with all the late theatre nights.
SAMANTHA WOOTEN (Hair and Makeup Design) is excited to continue another season with PTC and the University of Utah as Wig Master. Previous career highlights include Wig Designer for the Utah Opera and Santa Fe Opera, Wig Master for the Washington National Opera, Wig and Makeup Designer for Glimmerglass Opera, Associate Wig Master for Los Angeles Opera, and Wig Master for the Repertory Theatre of St. Louis.
STEPHEN SONDHEIM (Music & Lyrics) wrote the music and lyrics for SATURDAY NIGHT (1954), A FUNNY THING HAPPENED ON THE WAY TO THE FORUM (1962), ANYONE CAN WHISTLE (1964), COMPANY (1970), FOLLIES (1971), A LITTLE NIGHT MUSIC (1973), THE FROGS (1974), PACIFIC OVERTURES (1976), SWEENEY TODD (1979), MERRILY WE ROLL ALONG (1981), SUNDAY IN THE PARK WITH GEORGE (1984), INTO THE WOODS (1987), ASSASSINS (1991), PASSION (1994) and ROAD SHOW (2008) as well as lyrics for WEST SIDE STORY (1957), GYPSY (1959) and DO I HEAR A WALTZ? (1965) and additional lyrics for CANDIDE (1973). Anthologies of his work include SIDE BY SIDE BY SONDHEIM (1976), MARRY ME A LITTLE (1981), YOU'RE GONNA LOVE TOMORROW (1983), PUTTING IT TOGETHER (1993/99) and SONDHEIM ON SONDHEIM (2010). He composed the scores of the films "Stavisky" (1974) and "Reds" (1981) and songs for "Dick Tracy" (1990) and the television production "Evening Primrose" (1966). His collected lyrics with attendant essays have been published in two volumes: "Finishing the Hat" (2010) and "Look, I Made A Hat" (2011). In 2010 Broadway's Henry Miller's Theatre was renamed The Stephen Sondheim Theatre in his honour; in 2019, London's Queens Theatre was also renamed the Sondheim.
EMILY NACRISSA GRIFFITH* (Production Stage Manager) This is Emily's seventh season with Pioneer Theatre Company. She graduated from UVU with multiple awards for her work, including the Kennedy Center's Meritorious Achievement Award. She has also managed Sundance's Summer Theatre for the past two seasons.
SARAH HUDSON* (Stage Manager) hails from Austin, TX and is pleased to be returning to Pioneer Theatre Company for a second season. Previous engagements with PTC include Something Rotten!; Hello, Dolly!; and the 2022 Play-by-Play series. Favorite past credits include: Gold Mountain with Utah Shakespeare Festival and work with The Long Center for the Performing Arts, Summer Stock Austin, ZACH Theatre, Texas Performing Arts, and Zilker Theatre Productions. Proud Equity member.
BOB CLINE (Casting) is the founder of Bob Cline Casting in New York. He has cast film, TV, commercials, over 75 national tours, and numerous regional theaters across the country and has been associated with the casting for PTC for many years. Cline is currently a proud faculty member in Pace University's theatre program, in charge of the senior BFA musical theatre majors. He is the Associate Director of Broadway Artists Alliance, enjoys working with The Open Jar Institute, and often teaches through The Growing Studio and The Actor's Loft.
PIONEER THEATRE COMPANY (PTC) Now celebrating its 61st season, the award-winning PTC is Utah's premiere professional theatre company and leading arts organization of the West. Led by Artistic Director Karen Azenberg and Interim Managing Director Diane L. Parisi, PTC presents world-class productions that celebrate diversity in culture and society and serve as the connecting bridge between art and scholarship as an affiliate of the University of Utah. 
MUSIC THEATRE INTERNATIONAL (MTI) is one of the world's leading theatrical licensing agencies, granting theatres from around the world the rights to perform the greatest selection of musicals from Broadway and beyond. Founded in 1952 by composer Frank Loesser and orchestrator Don Walker, MTI is a driving force in advancing musical theatre as a vibrant and engaging art form. MTI works directly with the composers, lyricists and book writers of these musicals to provide official scripts, musical materials and dynamic theatrical resources to over 100,000 professional, community and school theatres in the US and in over 150 countries worldwide. MTI is particularly dedicated to educational theatre, and has created special collections to meet the needs of various types of performers and audiences. MTI's Broadway Junior™ shows are 30- and 60-minute musicals for performance by elementary and middle school-aged performers, while MTI's School Editions are musicals annotated for performance by high school students. MTI maintains its global headquarters in New York City with additional offices in London (MTI Europe) and Melbourne (MTI Australasia).
ACTORS EQUITY ASSOCIATION (AEA) Founded in 1933, AEA represents more than 51,000 professional Actors and Stage Managers nationwide. Equity seeks to foster the art of live theatre as an essential component of society and advances the careers of its members by negotiating wages, improving working conditions and providing a wide range of benefits, including health and pension plans. Actor's Equity is a member of the AFL-CIO and is affiliated with FIA, an international organization of performing arts unions. #equityworks
*Member of Actors' Equity Association, the Union of Professional Actors and Stage Managers in the United States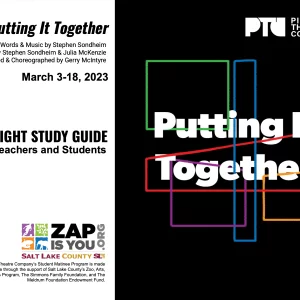 SYNOPSIS: The show is a compilation of songs by Stephen Sondheim, including numbers from Follies, Company, A Funny Thing Happened on the Way to the Forum, Sweeney Todd, Assassins, Dick Tracy, Merrily We Roll Along, Sunday in the Park with George, and others. The theme is a party and the songs cleverly weave a tale of action and reflection on relationships and the kinds of problems and conversations that adults often have. 
LANGUAGE: None, although there is the wit and sass typical of Sondheim lyrics.
SMOKING AND DRINKING: There may be smoking or drinking. 
SEX: None, though it may be alluded to on a couple occasions.
VIOLENCE: None.
FOR WHICH AUDIENCES? Most audiences can appreciate, especially those who are fans of Sondheim. Younger children will likely be bored because of the focus on problems and situations which are experienced more by adults than kids.
RATING: Putting It Together  might  be rated "PG-13."
*Members of the Actors' Equity Association