Musical | Limited Engagement
October 20-31, 2023
Music, Lyrics & Book By 
Richard O'Brien
Pioneer Theatre Company's favorite way to celebrate Halloween! A groundbreaking cult musical and beloved glam rock tribute to B-horror films, The Rocky Horror Show returns with some of the most iconic characters in musical theatre history: squares Brad and Janet, mad scientist Dr. Frank N. Furter, his "monster," and, of course, a swath of drive-in usherettes and creepy sidekicks. 
Join PTC for a full throttle Rocky Horror experience in all of its interactive, campy glory— celebrating the landmark musical's 50th anniversary. Let's all do the time warp again! 
THE ROCKY HORROR SHOW is presented by arrangement with Concord Theatricals.  
Special Performance Schedule
Friday, October 20: 7:30 PM (Narrator: Steve Urquhart)
Saturday, October 21: 2 PM* (Narrator: Randall Carlisle)
Saturday, October 21: 7:30 PM (Narrator: Babs De Lay)
Sunday, October 22: 3 PM (Steve Urquhart)
Sunday, October 22: 8 PM (Randall Carlisle)
Monday, October 23: 7 PM (Babs De Lay)
Tuesday, October 24: 7 PM (Randall Carlisle)
Thursday, October 26: 7 PM (Steve Urquhart)
Friday, October 27: 7:30 PM (Randall Carlisle)
Saturday, October 28: 5 PM (Babs De Lay)
Saturday, October 28: 9:30 PM (Steve Urquhart)
Sunday, October 29: 3 PM (Babs De Lay)
Monday, October 30: 7 PM (Randall Carlisle)
Tuesday, October 31: 5:30 PM (Steve Urquhart)
Tuesday, October 31: 10 PM (Babs De Lay)
*ASL-interpreted performance 
Please contact the Box Office at 801-581-6961 for more information.


RICHARD O'BRIEN (Music, Lyrics, and Book) was born Richard Smith in Cheltenham, England. His family moved to Tauranga, New Zealand, in 1951 when his father, an accountant, decided to become a sheep farmer. Smith moved back to England in 1964 and changed his name to Richard O'Brien, which was his maternal grandmother's name, and became a movie stuntman and fringe theater actor. In 1972, director Jim Sharman cast him in the dual roles of Apostle and Leper for the London stage production of Jesus Christ Superstar; the pair also worked together later on a production of Sam Shepard's The Unseen Hand. O' Brien mentioned to Sharman a new rock musical he'd been writing, which was then called Rock Horroar. The play went into rehearsals with Sharman as its director under the title They Came from Denton High, and was retitled The Rocky Horror Show before opening in June 1973. O'Brien also co-wrote the screenplay of the 1975 film adaptation The Rocky Horror Picture Show, and appeared in the film as the character Riff Raff. O'Brien still works as a successful actor, writer, broadcaster, voice actor and theater performer.
KAREN AZENBERG (Director/Choreographer) This marks Karen Azenberg's twelfth season as Artistic Director at PTC. Favorite projects include the world premieres of Alabama Story and "i"; the regional premieres of Sting's The Last Ship and Les Misérables; and The Curious Incident of the Dog in the Night-Time, Newsies, Sweet Charity, and The Play That Goes Wrong. Originally from New York, her work there includes Lyrics and Lyricists (92nd St. Y), Blocks (a collaboration with Jonathan Larson), Prom Queens Unchained, and choreography for Richard Greenberg's The Dazzle (Roundabout Theatre Company). Among her other credits are National Tours of Carousel and Brigadoon, West Side Story (over 15 productions), and productions at Indiana Repertory, Geva Theatre Center, Alabama Shakespeare Festival, Goodspeed, and Utah Shakespeare Festival. Karen is a past president of the Stage Directors and Choreographers Society (SDC). Her favorite productions are her son Alexander and her daughter Emelia.
HELEN GREGORY (Musical Director/Conductor) is returning for her 3rd production of Rocky Horror and her 12th production at PTC. Additional credits include: NY Theatre Workshop, WPA, The Vineyard, Public Theatre, LaMama E.T.C., Hudson Guild, Maltz Jupiter Theatre (received 11 Carbonell nominations, winner for Crazy for You), Asolo Repertory Theatre (winner, Sarasota Magazine Theatre Awards Best Musical Direction for Barnum), Arkansas Repertory, Utah Shakespeare Festival, The Goodman Theatre, Indiana Repertory, Riverside Theatre, Human Race Theatre, New Jersey Repertory Company, Papermill Playhouse, and The Hangar Theatre. National tours: Grease, Oklahoma!, and Joseph… Industrials: American Movie Classics and Star Odyssey for the Stardust Hotel in Las Vegas. Thanks to all that make this production possible-staff, musicians, cast, crew and you, our audience. It truly takes a village to make this work happen. Enjoy!
LENNY DANIEL* (Associate Director) Choreographed Mary Poppins (Utah Shakespeare Festival) and Spamalot (Geva Theatre Center and Arkansas Repertory Theatre). Directed and choreographed Mid-Life! The Crisis Musical (TexARTS); choreographed The Little Mermaid (Forestburgh Playhouse); assistant directed The Wizard of Oz National Tour starring Mickey Rooney and Eartha Kitt; assistant choreographed Gigi (Papermill Playhouse), assisted Ann Reinking and performed in Here Lies Jenny starring Bebe Neuwirth (NYC & SF). Performing credits include Broadway: Cats (final original company) and The Wizard of Oz. NYC: Sinatra (Radio City Music Hall), Wonderful Town (NYC Opera). Tours: Spamalot, Chicago, South Pacific, Camelot, Jekyll & Hyde. Favorite Regional: Something Rotten!, La Cage aux Folles, Sweeney Todd, Newsies, Chess, Oliver!, The Last Ship (PTC), Two Gentlemen of Verona (Baltimore Center Stage), Mary Poppins, Peter Pan (Alabama Shakespeare Festival), Gigi, and Evita (Paper Mill Playhouse).
GEORGE MAXWELL (Scenic Designer) has been the resident scenic designer at Pioneer Theatre Company for over 25 years and has had the distinct pleasure of designing over 100 productions for the company. Most recently, he designed Something Rotten! for PTC. A few of his favorite PTC designs include Next to Normal, Rent, White Christmas, A Christmas Story, Chicago, Metamorphoses, Enchanted April, West Side Story, Proof, Peter Pan, Noises Off, Man of La Mancha, Miss Saigon, Fiddler on the Roof, A Christmas Carol: The Musical , Newsies, and Sweeney Todd. He was tapped by the Utah Opera Company to design The Coronation of Poppea and The Ballad of Baby Doe. Maxwell has also designed for the Alabama Shakespeare Festival and for the Utah Shakespeare Festival. He is a member of United Scenic Artists. To see more of his work, visit gmaxwell.weebly.com.
AARON SPIVEY (Lighting Designer) Previous Pioneer Theatre Designs: La Cage aux Folles and Sweat. NYC Off-Broadway designs include: Shadowlands, Jukebox Jackie, Wanda's World, From My Hometown, 4 Guys Named José, Golf the Musical, and Elle. Regional designs include: The Winter's Tale, Blind Date, Ah, Wilderness!, 2666 and Brigadoon (The Goodman Theater), Tug of War, Romeo and Juliet (Chicago Shakespeare Theatre), Red Bike (Center REP), The Secret Garden (Children's Theater of Charlotte & Idaho Shakespeare), Marry Me a Little (Cincinnati Playhouse in the Park), Bomb-ity of Errors (Syracuse Stage) 4 Guys Named José (Actors' Playhouse). International: A Chorus Line (Mexico City). On Broadway, Aaron has served as the associate or assistant designer on 30 productions, including: Aladdin, Motown, The Coast of Utopia, Diana, and Tarzan. Aaron is Assistant Professor of Lighting and Projection Design at Texas Tech University. AaronSpiveyLighting.com
AARON SWENSON (Costume Designer) is thrilled to return for a third round of Rocky Horror! Theatre: Two Dollar Bill (Pioneer); Mestiza, River.Swamp.Cave.Mountain, The Edible Complex, Hedwig and the Angry Inch (2012 Revival), Booksmart, One Big Union (Plan-B Theatre); Alabaster, Elephant & Piggie's "We Are in a Play" (SLAC); Nine Dragons, There's a Monster in My Closet (Youth Theatre at the U); Twelfth Night, (Salt Lake Shakespeare); and Assassins (Dark Horse). Film/TV Wardrobe & Design: Hereditary (A24, dir. Ari Aster), Andi Mack (Disney Channel), and High School Musical: The Musical: The Series  (Disney+). Aaron is also a professional actor, freelance writer, graphic designer, and the Marketing/Communications Coordinator for the U of U Department of Theatre.
AARON HUBBARD (Sound Designer) is enjoying his 16th season with Pioneer Theatre Company in sound mix and design. His favorite productions have been Sting's The Last Ship, Sweeney Todd: The Demon Barber of Fleet Street, Next to Normal, and One Man, Two Guvnors. Aaron teaches sound production and recording at Weber State University, and in his spare time he records and produces music. His favorite star is his wife, Melissa, who puts up with all the late theatre nights.
BYRON BATISTA (Hair & Makeup Designer) Byron's most recent work has been on the national tours of Frozen, Anastasia, Ain't Too Proud, as well as designing Head Over Heels for SLCC, SpongeBob SquarePants and The Little Mermaid for the Cache Theatre Company, and The Scarlet Pimpernel at the Ziegfeld Theatre. You can see more about his work at WigsByByron.com.
EMILY NACRISSA GRIFFITH* (Production Stage Manager) This is Emily's eighth season with Pioneer Theatre Company. She graduated from UVU with multiple awards for her work, including the Kennedy Center's Meritorious Achievement Award. She has also managed multiple productions for Sundance's Summer Theatre.
JAMES O. HANSEN* (Stage Manager) is thrilled to be in his first season here at Pioneer Theatre Company! Recent credits include: Beautiful at Theatre by the Sea. Clue (starring Sally Struthers), The Wedding Singer, and A Christmas Carol at The Gateway Playhouse. Joseph…Dreamcoat (starring David Archuleta), Mary Poppins, and Wonderland at Tuacahn Amphitheatre. James earned a Bachelor's Degree in Arts Management from Dean College. Special thanks to his Mom, Family, and Ostie for their love and support! DHH.
BOB CLINE (Casting) is the founder of Bob Cline Casting in New York. He has cast film, TV, commercials, over 75 national tours, and numerous regional theaters across the country and has been associated with the casting for PTC for many years. Cline is currently a proud faculty member in Pace University's theatre program, in charge of the senior BFA musical theatre majors. He is the Associate Director of Broadway Artists Alliance, enjoys working with The Open Jar Institute, and often teaches through The Growing Studio and The Actor's Loft.
PIONEER THEATRE COMPANY (PTC) Now celebrating its 62nd season, the award-winning PTC is Utah's premiere professional theatre company and leading arts organization of the West. Led by Artistic Director Karen Azenberg and Interim Managing Director Diane L. Parisi, PTC presents world-class productions that celebrate diversity in culture and society and serve as the connecting bridge between art and scholarship as an affiliate of the University of Utah. 
ACTORS' EQUITY ASSOCIATION (AEA) Founded in 1933, AEA represents more than 51,000 professional Actors and Stage Managers nationwide. Equity seeks to foster the art of live theatre as an essential component of society and advances the careers of its members by negotiating wages, improving working conditions and providing a wide range of benefits, including health and pension plans. Actor's Equity is a member of the AFL-CIO and is affiliated with FIA, an international organization of performing arts unions. #equityworks
*Member of Actors' Equity Association, the Union of Professional Actors and Stage Managers in the United States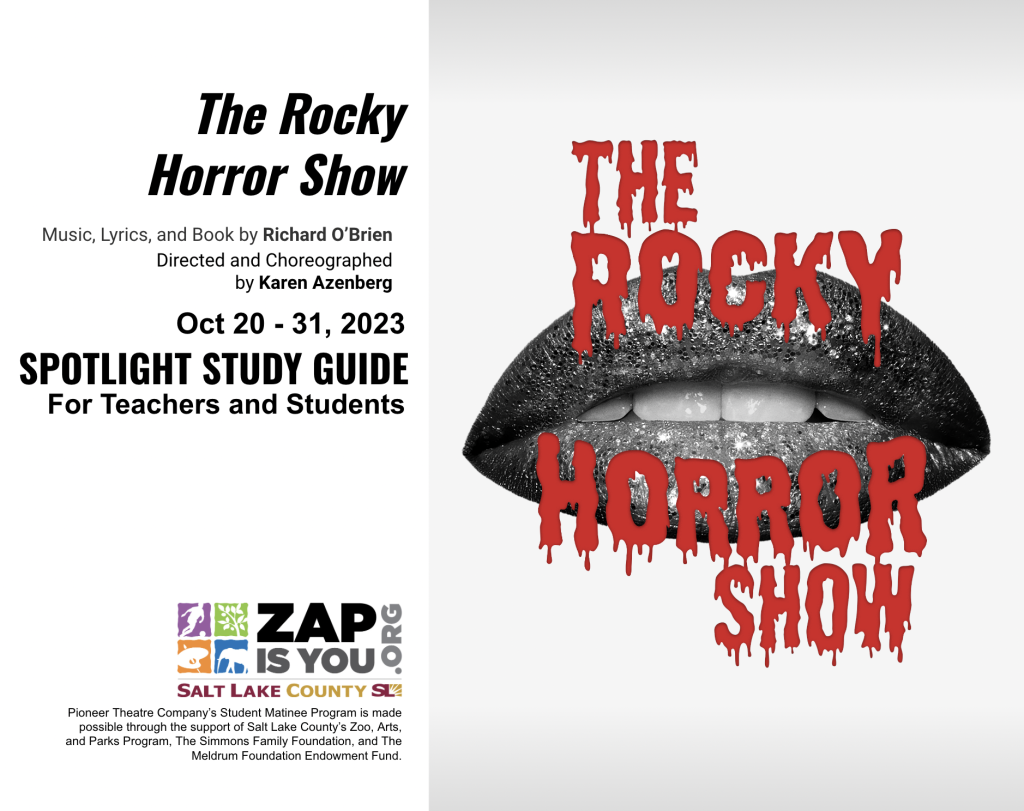 SYNOPSIS: Pioneer Theatre Company's favorite way to celebrate Halloween!  A groundbreaking cult musical and beloved glam rock tribute to B-horror films, The Rocky Horror Show returns with some of the most iconic characters in musical theatre history:  In this cult classic, sweethearts Brad and Janet, stuck with a flat tire during a stormy night, discover the eerie mansion of Dr. Frank-N-Furter. As their innocence is lost, Brad and Janet meet a houseful of wild characters, including a rocking biker, a creepy butler, and a swath of drive-in usherettes and creepy sidekicks.  Through elaborate dances and rock songs, Dr. Frank-N-Furter unveils his latest creation: his "monster" named, Rocky.
LANGUAGE: There is a small amount of strong language. The production, written in 1973, also contains some outdated terms, which in 2023 might be deemed offensive: i.e. "transvestite."
SEX: The Dr. Frankenstein character, Frank-n-Furter, is a sexually fluid alien from "transsexual Transylvania" who seduces both Janet and Brad.
VIOLENCE: As befits a horror movie, there is a gruesome murder and a fair amount of blood, all played to comic excess.
FOR WHICH AUDIENCES? The Rocky Horror Show is not for conservative audiences or pre-teen children. High school students have been embracing the movie for 40 years, but children should attend only at a parent's discretion. The film version (The Rocky Horror Picture Show) is rated R.