We're happy to share the recipes from Let It Show! PTC's Perfectly Pandemic Productions Broadway Nosh with Kirsten Wyatt & Friends! Catch these 11 minutes of fun, online at our Digital Holiday Events portal. Kirsten's segment will air on Friday, December 11 (or Wednesday, December 9, if you're a season subscriber—check your email for your password).
Enjoy!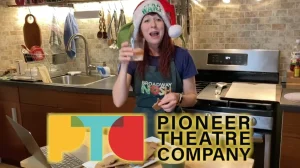 A Delicious Giant Cookie Blob and The Drink That Went Right
Cookie recipe by Dorie Greenspan (very slightly adapted by Kirsten Wyatt)
Cocktail recipe by Ruth Pferdehirt
GIANT SPICE COOKIE
1 ¼ cups (170 grams) all-purpose flour
½ cup (68 grams) whole-wheat flour
1 ½ teaspoons ground coffee
1 teaspoon ground cinnamon
1 teaspoon ground ginger
¾ teaspoon ground cloves
1 stick plus 1 tablespoon (4 1/2 ounces; 128 grams) cold, unsalted butter, cut into small pieces
½ cup packed (100 grams) brown sugar
¼ cup (50 grams) sugar
¼ teaspoon fine sea salt
1 large egg
1 tablespoon honey
White chocolate sauce (recipe below), chocolate or caramel sauce, homemade or store-bought, for dipping (optional)
Whisk together the flours, coffee and spices; set aside.
Working with a mixer fitted with a paddle attachment, mix the pieces of cold butter, both sugars and the salt on low speed for about 3 minutes, until the mixture forms clumps and then comes together. Add the dry ingredients all at once, and then pulse the mixer on and off, just until the risk of flying flour has passed. Mix on low-medium speed until you've got a bowl of crumbs, about 3 minutes. Lightly whisk the egg and honey together. With the mixer on low, add the egg mixture gradually, and then continue to mix until the dough forms clumps. Turn it out onto a sheet of parchment paper.
Press the dough down, cover it with another sheet of paper and roll it out until it's about 1/8-inch thick. It can be any shape — round, oval, rectangular, raggedy-edged or pristine. It doesn't matter!! Thickness is more important than the dimensions. Slide the sandwiched dough onto a baking sheet, and refrigerate it for at least 1 hour (or up to 3 days). If you prefer, you can wrap the dough well and freeze it for up to 2 months; keep it at room temperature for about 20 minutes before baking.
When you're ready to bake, center a rack in the oven, and heat it to 350. Remove the top sheet of paper; leave the dough on the paper-lined baking sheet.
Bake the cookie for 20 to 24 minutes — the edges will be darker than the middle. Press the center of the cookie, and it should be firm with just a tiny bit of give; it will feel firmer as you work your way out. Transfer the baking sheet to a rack, and allow the cookie to come to room temperature. If you're not eating it immediately, you can wrap the cookie well, and keep it at room temperature for about 4 days. Make sure the room is dry — humidity is a crisp cookie's nemesis.
You can serve the cookie whole, letting everyone break off pieces (of course, there will be crumbs — they're part of the cookie's charm), or you can break or cut it in the kitchen and serve the pieces as you would any cookie. Chocolate or caramel sauce (or both) for dipping is optional, but scrumptious.
WHITE CHOCOLATE SAUCE
6 ounces white chocolate
1 1/2 cups heavy cream
Place chocolate in a small bowl. Bring cream to a boil in a heavy small saucepan. Pour cream over chocolate, whisk until smooth.
THE DRINK THAT WENT RIGHT
2 shots bourbon (you can also use gin, vodka or whatever spirit you like!)
Dash of orange liqueur
2 bloop bloops bitters
2 blops (aka teaspoons) cranberry sauce
Glazed orange garnish (optional), recipe below
Put some ice in a shaker. Add your drink ingredients and SHAKE. Shake until your hands feel cold. That means the drink is cold enough. Strain and pour into a glass. Garnish with a glazed orange
GLAZED ORANGE
1 cup sugar
1 cup water
1 orange, thinly sliced
Boil sugar and water together until sugar is dissolved. Drop the orange slices in the syrup and simmer for 20 minutes. Once cool, transfer orange and syrup to a jar and store in the fridge for 7-14 days.
The orange and the syrup are great in drinks, on cakes, ice cream, yogurt and whatever else you think might work!