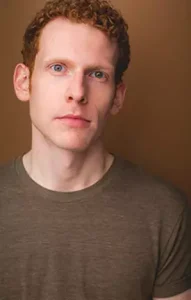 Bringing Elf The Musical to life on stage takes a little bit of stage magic, a lot of talented cast and crew, a believable Santa, and a six-foot tall actor with the enthusiasm of a child who can make you believe in Christmas all over again!
PTC is just tickled, like maple-syrup-on-cereal, to have Max Chernin captivate our hearts in the role of Buddy the Elf, set to run onstage December 3-18.
We spoke with Max about his career, playing Buddy, and some of his favorite theatre productions.
Buddy the Elf is a little goofy and a lot charming, especially compared to other roles you have done. What draws you to his character? Is there any "Buddy" in you? What will you bring to the role that might be different from others?
His naïveté lights up this character. It's so fun to experience the world (and New York) through his eyes. I love folding parts of myself into the character so you'll catch some 'Max' things throughout.
You have done a good deal of TV and film. How does performing live on stage differ? Do you find it more or less challenging?
On-camera work is a whole different beast. Your framing in each shot dictates the focus and intensity of a performance, and you get a chance to do it multiple times with each take. However, nothing beats the community you build doing theatre! Happy to be here with the wonderful Elf company after a long break over the past two years.
When did you become interested in theatre? Do you have a favorite Broadway show? What is your dream role?
I started acting class and performing in shows when I was seven years old, and I was hooked! I'm grateful my parents were so supportive. In terms of favorites…I'm a Sondheim super-fan— Sunday in the Park with George is my favorite musical. I would also love to play George having understudied it, but my 'dream' would be to originate a role in a new musical or play.
I see you wrote and starred in Together Again for the Goodspeed Opera House. Does this mean you would like to write in the future? Do you have many artistic hobbies?
I wrote Together Again with my co-star Celeste Rose and resident dramaturg Anika Chapin. I loved it, and hope to continue. Other artistic hobbies— I shoot on 35mm film! The reveal of developed film is always exciting.
What projects do you have coming up after Elf?
You can find me on the third (and final) season of "Dickinson" on Apple+!