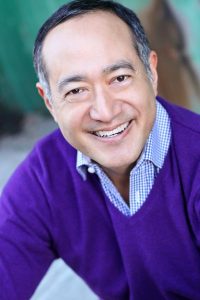 By Jennifer Fitzgibbon
Alan Muraoka, director of PTC's upcoming show Elf The Musical, is a well-established actor and director and may look familiar to many of you. That's because he is also the proprietor of Hooper's Store on the much-loved "Sesame Street" where he has been a cast member for 23 years!
PTC sat down with Alan to ask him about Elf The Musical, being an actor and a director, and of course "Sesame Street".
How did you transition from acting to directing? Is it difficult juggling a TV role and directing?
When I was a theatre arts major at UCLA, I was interested in both acting and directing, but focused on the acting. That got me to New York City in 1987 and my first Broadway show. My first professional directing debut was in 1998 with an Asian American Theatre Company called NAATCO (National Asian American Theatre Company) where I directed the William Finn musical Falsettoland with an all-Asian American cast. We got amazing reviews and a love letter from The New York Times, so the show ran for that entire summer. It gave me a wonderful start to my directing career.
I have been a cast member of "Sesame Street" for the past 23 years (I play Alan, the proprietor of Hooper's Store) and have had the pleasure of directing projects for them for the past 10 years. We shoot an entire season of "Sesame Street" in four months, so that leaves the rest of the year for me to do other directing and acting projects, like Elf. It actually works out pretty well since our shooting season for "Sesame Street" is so short. The only time it becomes a small challenge is when I am both directing and acting in the same episode. It's a lot of hats to wear at the same time, but I have figured out how to make that work and I am luckily surrounded by great people who help support me.
Being a full time cast member on a kid's show is a different path for a Broadway actor and director. Have your skills working on "Sesame Street" helped with working on a family friendly show like Elf?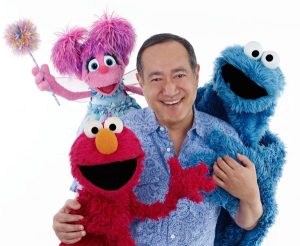 Absolutely. At "Sesame Street," we strive for finding both humor and heart in our material as we try to find that balance of education and entertainment. And when Karen Azenberg (Artistic Director for PTC) approached me and sent me the script for Elf, I immediately saw that the show is filled with the same humor and heart that I love. Buddy the Elf's life perspective is so pure, and his joy brightens every room he enters that I found immediate parallels to it and "Sesame Street." If Buddy the Elf was a Muppet, I think he would be closest to either Ernie or Grover.
What was the first professional show you saw as a child? How did that affect your decision to become an actor? Is Elf The Musical a good "first show" to introduce children to theatre?
My parents weren't really theatregoers, but when they saw that I had an interest, they did start buying tickets to the touring shows that came to Los Angeles. The show that I remember being the most impactful to me was A Chorus Line. I think I was 14 at the time, and I was blown away by the dancing and the story. I think it was my "aha" moment. I had already been doing theatre at my elementary and junior high school, but this set me on a course to where I am today. My parents were of course concerned but supportive of my passions, and when it came time to talk about college, I told them I wanted to be a Theatre Arts major. We decided as a family that UCLA would be the best fit, because they had a wonderful theatre program, but if I somehow changed my mind, it was a great school with lots of alternative choices. Luckily, we never had to have that discussion. Carol Burnett offered an annual Musical Theatre Scholarship at UCLA that was open for any student to audition, and eight finalists were chosen to perform for an audience of industry folks. There was a panel of four celebrity judges who decided the outcome. I was a finalist three times, and finally won my junior year. And throughout those three years I was judged by Broadway veterans Paula Kelly, Ken Berry, Rock Hudson, and Carol Burnett herself. I think the moment that my parents and grandparents met Carol Burnett backstage they knew there was no turning back.
I think Elf is the perfect show for children to be introduced to theatre. It's a holiday show with so much physical humor, great songs, a huge heart, and the central character of Buddy who has the innocence of an eight-year-old child. It's a win-win scenario.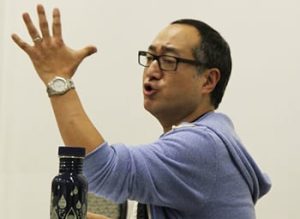 What draws you to this show and what do you plan to bring to the production that others have not done before?
As I have said, the humor and the heart of any show is what excites me and drives me. An emotional connection is vital and important in any good storytelling, and I do think that Elf has that. The challenges that arise are of course the realities of budget. We cannot realize everything that was in the original Broadway production, so we have to work smarter, which is always a fun and challenging journey. We are using lighting for many of our magical effects, and fingers crossed it all works out. That's all I'm going to give. You'll have to come and see it for yourself!
Anything you would like to add about the cast you're working with? Have you worked with any of them before?
I feel so lucky to have this wonderful mix of local and New York talent. Whenever I cast, I try to find both the most talented actors and people I want to be in a room with. I try to create a relaxed atmosphere in the rehearsal room, where actors feel brave enough to experiment and sometimes fail. I cannot tell you how many great ideas come out of failed attempts. I know as an actor when I feel safe, and I try to recreate that in my rehearsal space.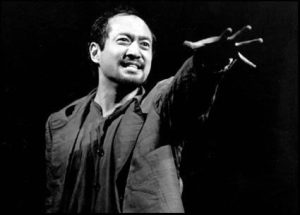 MAX CHERNIN as Buddy is a revelation. I have been a fan of his for a few years, and so am very excited that he is setting the tone for both comedy and heart. Our MUSICAL DIRECTOR TOM GRIFFIN hired me as an actor back in 1983 or 1984 for Holiday Cabaret he was doing in Los Angeles, and this is our first time back together since that time. Our CHOREOGRAPHER ROMMY SANDHU and I have been friends for many years and yet this is our first time collaborating on a project together. Our Greenway is played by HOWARD KAYE, who is a longtime favorite at PTC, and he and I did the original Broadway production of Miss Saigon back in 1995. And this is the theatrical return of my friend DANIELLE DECRETTE, who stopped performing to raise three beautiful girls and will be a valued member of our Ensemble.
What is your next project?
On Thanksgiving Day "Sesame Street" will debut a special called See Us Coming Together which will celebrate Asian Americans and Pacific Islanders and introduce a new Muppet cast member named Ji-Young, a spunky Korean American girl. I had the great honor of co-directing this special as well as being an actor in it, along with guest stars like SIMU LIU, NAOMI OSAKA, PADMA LAKSHMI, MELISSA KING and JIM LEE.
I also will be directing segments for "Sesame Street's" upcoming Season 53 as well as developing a new musical based on the life of Franz Kafka and The Metamorphosis. 
***
Elf the Musical runs from the December 3 -18, 2021.