May 12 – May 27, 2023
Book and Lyrics by
Chad Beguelin
Book by 
Bob Martin
Music by 
Matthew Sklar
Based on an original concept by
Jack Viertel
Directed & Choreographed by
Karen Azenberg

Musical Direction by
Phil Reno
"Makes you believe in musical comedy again!" — The New York Times
From the creative team who charmed us with Elf the Musical, a group of down-on-their-luck Broadway stars shake up a small Indiana town as they rally behind a teen who just wants to attend prom with her girlfriend. 
"So full of happiness that you think your heart is about to burst." — Variety
"The kind of show that would make the world a better place if everyone saw it."— O, The Oprah Magazine
"THE PROM" is presented through special arrangement with and all authorized performance materials are supplied by Theatrical Rights Worldwide, 1180 Avenue of the Americas, Suite 640, New York, NY 10036. www.TheatricalRights.com
Tickets are no longer available for this show.
Monday – Thursday , 7:00 PM
Friday & Saturday, 7:30 PM
Saturday, 2:00 PM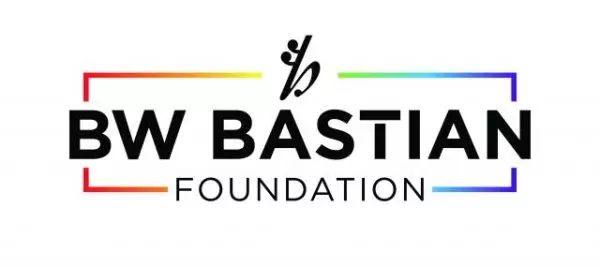 *Members of the Actors' Equity Association
CHAD BEGUELIN (Book and Lyrics) is a four-time Tony nominee whose works include Disney's Aladdin (Tony Award nomination for Best Book and Best Original Score, Drama Desk Award nomination for Outstanding Lyrics and Best Book) and The Wedding Singer (Tony Award nomination for Best Book and Best Original Score, Drama Desk Award nomination for Outstanding Lyrics) He also wrote the lyrics for the Broadway musical Elf. Chad is the recipient of the Edward Kleban Award for Outstanding Lyric writing, the Jonathan Larson Performing Arts Foundation Award, the Gilman & Gonzalez-Falla Musical Theater Award and the ASCAP Foundation Richard Rodgers New Horizon Award. Chad is a graduate of New York University's TISCH School of the Arts Graduate Dramatic Writing Program.
BOB MARTIN (Book) has been working as an actor and writer for over three decades. He has received many awards in both Canada and the US, including a Tony for The Drowsy Chaperone. Recent TV projects include Slings & Arrows (TMN, Sundance), Michael: Tuesdays and Thursdays (CBC), Michael: Everyday (CBC), Sensitive Skin (HBO) and "Elf: Buddy's Musical Christmas" (NBC). Recent theatre projects include Encores! Hey, Look Me Over (NY); The Sting (Paper Mill); HALF TIME (Chicago, Paper Mill); THE PROM (Atlanta); Elf (Broadway, Dublin, London); The Drowsy Chaperone (Toronto, Broadway, London); and Second City Toronto (Performer, Director, Artistic Director).
MATTHEW SKLAR (Music) Tony, Emmy, and Drama Desk Award-nominated composer of the Broadway musicals Elf and The Wedding Singer (Tony nomination for Best Original Score, Drama Desk Award nomination for Outstanding Music). He was nominated for a Primetime Emmy Award for Outstanding Music Direction for the critically acclaimed NBC stop-motion animated TV Special "Elf: Buddy's Musical Christmas." Additional TV/film credits include Sesame Street, Wonder Pets, and PBS's American Masters. Awards include the ASCAP Foundation Richard Rodgers New Horizons Award, the Gilman/Gonzalez-Falla Theatre Award and the Jonathan Larson Performing Arts Foundation.
KAREN AZENBERG (Director/Choreographer) This marks Karen Azenberg's eleventh season as Artistic Director at PTC. Favorite projects include the world premieres of Alabama Story and "i"; the regional premieres of Sting's The Last Ship and Les Misérables; and The Curious Incident of the Dog in the Night-Time, Newsies, Sweet Charity, and The Play That Goes Wrong. Originally from New York, her work there includes Lyrics and Lyricists (92nd St. Y), Blocks (a collaboration with Jonathan Larson), Prom Queens Unchained, and choreography for Richard Greenberg's The Dazzle (Roundabout Theatre Company). Among her other credits are National Tours of Carousel and Brigadoon, West Side Story (over 15 productions), and productions at Indiana Repertory, Geva Theatre Center, Alabama Shakespeare Festival, Goodspeed, and Utah Shakespeare Festival. Karen is a past president of the Stage Directors and Choreographers Society (SDC). Her favorite productions are her son Alexander and her daughter Emelia.
PHIL RENO (Musical Director/Conductor) has been Musical Director/Conductor for numerous Broadway shows: Something Rotten!; Elf!; Promises, Promises; The Drowsy Chaperone; The Producers; Thou Shalt Not; Dame Edna: The Royal Tour and Back With a Vengeance; Cats. Phil also conducted the Rockettes for six seasons at the Radio City Christmas Spectacular. National Tours: Joseph… (with Donny Osmond); original company Music of the Night; Starlight Express; Bob Fosse's Sweet Charity. Off-Broadway: A New Brain; Nightmare Alley; Enter Laughing; Chess. Phil has conducted seven original cast albums and is a two-time Grammy nominee as producer of the Something Rotten! and The Drowsy Chaperone cast recordings. Previously at PTC: Sweet Charity, Chess, The Will Rogers Follies, Dirty Rotten Scoundrels, Sweeney Todd, Hello, Dolly!, and Putting It Together.
JO WINIARSKI (Scenic Designer) Jo's previous designs at PTC were What the Constitution Means to Me, A Distinct Society, Ass, The Lifespan of a Fact, and Ain't Misbehavin'. Jo's Off-Broadway credits include HYPROV, Accidentally Brave, The Absolute Brightness of Leonard Pelkey, and Love, Loss, and What I Wore. Regional design credits include Guthrie Theater; Arizona Theatre Company; Utah Shakespeare Festival (over 40 shows); The Old Globe; Berkeley Repertory Theatre; Oregon Shakespeare Festival; Dallas Theater Center; and Geva Theatre Center. Additional credits include Wishes for Disney Cruise Line. Jo was the art director on Late Night with Seth Meyers (episodes 1-844) and received an Emmy nomination for art direction for A Colbert Christmas: The Greatest Gift of All. 
PATRICK HOLT (Costume Designer) Patrick's costume design credits include The Guthrie Theater, Milwaukee Rep Theater, Kansas City Rep, Alabama Shakespeare Festival, Pioneer Theatre Company, Arizona Theater Company, The American Dance Festival, Arizona Repertory Theatre, and The Colorado Shakespeare Festival. As Resident Costume Designer for Playmakers Repertory Company, he designed the world premiere production of Tazewell Thompson's Constant Star, and the world premiere of Romulus Linney's Gint for the North Carolina School of the Arts. Patrick's work has been seen at The Kennedy Center for Performing Arts, The Moscow State Theater, The Utah Shakespeare Festival, The Carolina Ballet, The Public Theater, The John Houseman Theatre, The Old Globe in San Diego, Bonneville Media, The inaugural season of the Roanoke Island Festival Park, The American Dance Festival, and on HBO, CBS, A&E, and World of Wonder (where he was featured on three seasons of RuPaul's Drag Race, and multiple other productions). Currently he is a Professor of Costume Design at the University of Arizona.
DAVID NEVILLE (Lighting Designer) is very excited to be at Pioneer Theatre Company. He has designed lighting for over 300 productions for various regional theatres including Music Theatre of Wichita, Ordway Music Theatre, Papermill Playhouse, Walnut Street Theatre, The 5th Avenue Theatre, Portland Center Stage, Pioneer Theatre Company, North Carolina Theatre, North Shore Music Theatre, Arkansas Rep, Theatre Under the Stars, Music Theatre West, and Santa Barbara Civic Light Opera. Other projects include designs for Off-Broadway, national, and international tours. This year includes designs at Music Theatre of Wichita, Wichita Symphony, Arkansas Rep, and California Music Circus.
AARON HUBBARD (Sound Designer) is enjoying his 15th season with Pioneer Theatre Company in sound mix and design. His favorite productions have been Sting's The Last Ship, Sweeney Todd: The Demon Barber of Fleet Street, Next to Normal, and One Man, Two Guvnors. Aaron teaches sound production and recording at Weber State University, and in his spare time he records and produces music. His favorite star is his wife, Melissa, who puts up with all the late theatre nights.
SAMANTHA M. WOOTTEN (Hair and Makeup Design) is excited to continue another season with PTC and the University of Utah as Wig Master. Previous career highlights include Wig Designer for the Utah Opera and Santa Fe Opera, Wig Master for the Washington National Opera, Wig and Makeup Designer for Glimmerglass Opera, Associate Wig Master for Los Angeles Opera, and Wig Master for the Repertory Theatre of St. Louis.
PAMELA BRUSOSKI* (Production Stage Manager) has stage managed on and off-Broadway for more than 20 years including over 40 shows at Irish Repertory Theatre. She was a PSM at Pittsburgh Public Theater for 5 seasons. Other credits include Carnegie Hall and Lincoln Center. MFA in Directing from The City University of New York at Brooklyn College.
EMILY NACRISSA GRIFFITH* (Stage Manager) This is Emily's seventh season with Pioneer Theatre Company. She graduated from UVU with multiple awards for her work, including the Kennedy Center's Meritorious Achievement Award. She has also managed Sundance's Summer Theatre for the past two seasons.
SARAH HUDSON* (Stage Manager) hails from Austin, TX and is pleased to be returning to Pioneer Theatre Company for a second season. Previous engagements with PTC include Something Rotten!; Hello, Dolly!; and the 2022 Play-by-Play series. Favorite past credits include: Gold Mountain with Utah Shakespeare Festival and work with The Long Center for the Performing Arts, Summer Stock Austin, ZACH Theatre, Texas Performing Arts, and Zilker Theatre Productions. Proud Equity member.
BOB CLINE (Casting) is the founder of Bob Cline Casting in New York. He has cast film, TV, commercials, over 75 national tours, and numerous regional theaters across the country and has been associated with the casting for PTC for many years. Cline is currently a proud faculty member in Pace University's theatre program, in charge of the senior BFA musical theatre majors. He is the Associate Director of Broadway Artists Alliance, enjoys working with The Open Jar Institute, and often teaches through The Growing Studio and The Actor's Loft.
PIONEER THEATRE COMPANY (PTC) Now celebrating its 61st season, the award-winning PTC is Utah's premiere professional theatre company and leading arts organization of the West. Led by Artistic Director Karen Azenberg and Interim Managing Director Diane L. Parisi, PTC presents world-class productions that celebrate diversity in culture and society and serve as the connecting bridge between art and scholarship as an affiliate of the University of Utah. 
ACTORS EQUITY ASSOCIATION (AEA) Founded in 1933, AEA represents more than 51,000 professional Actors and Stage Managers nationwide. Equity seeks to foster the art of live theatre as an essential component of society and advances the careers of its members by negotiating wages, improving working conditions and providing a wide range of benefits, including health and pension plans. Actor's Equity is a member of the AFL-CIO and is affiliated with FIA, an international organization of performing arts unions. #equityworks
*Member of Actors' Equity Association, the Union of Professional Actors and Stage Managers in the United States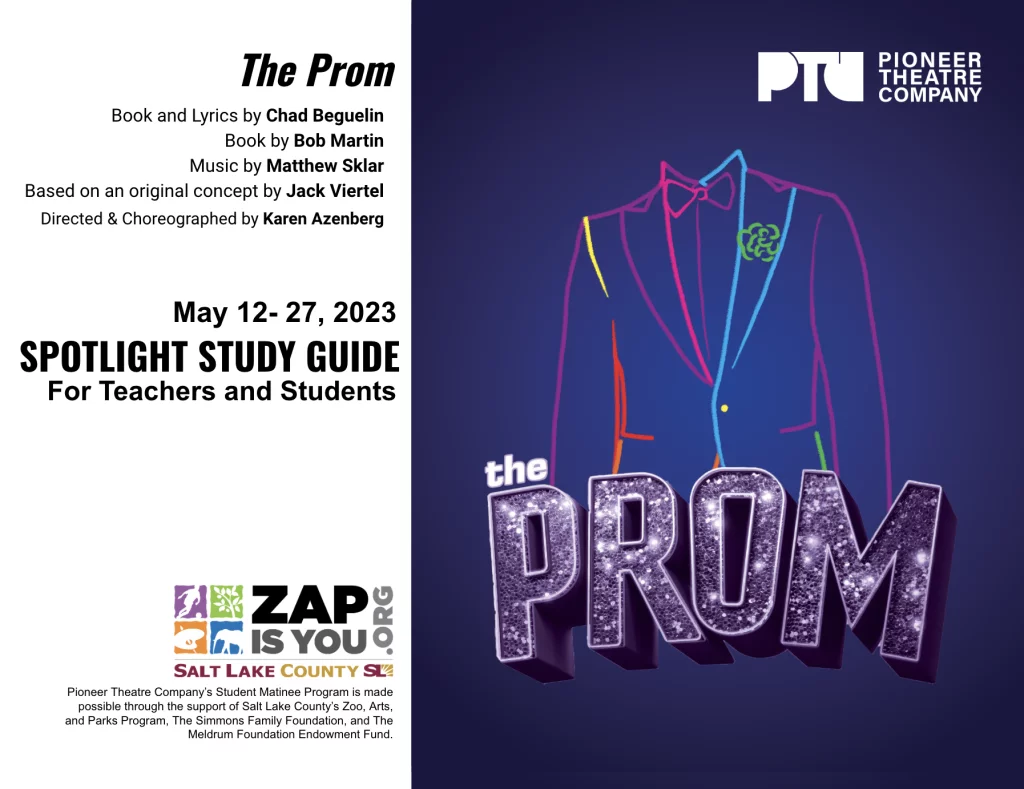 SYNOPSIS: In a desperate need of a noble cause to revive their public images, self-centered Broadway thespians Dee Dee Allen and Barry Glickman have come up with a foolproof plan to earn some positive publicity. In the national media, they read about Emma, a bright-eyed high-school student who has recently come out of the closet and only wants to take her girlfriend to the prom without drama. Intolerance and the local PTA stand in her way. The flamboyant celebrity activists and their fellow struggling actors, Angie Dickinson and Trent Oliver, head to the small town of Edgewater, Indiana, to right a wrong, with some hilarious bumps along the way. Eventually the community softens their hearts, sharing a message of inclusion and acceptance.
LANGUAGE: There is frequent language that you would find in the halls and classrooms of most high schools. There is at least one use of a pejorative term for lesbian.
SMOKING AND DRINKING: The actors conceive their plan to help Emma while at a party where drinks are consumed.
SEX: None to speak of.
VIOLENCE: None
FOR WHICH AUDIENCES? The Prom is suitable for teens and above.
RATING: The movie version of The Prom was rated PG-13 for some suggestive references and language.