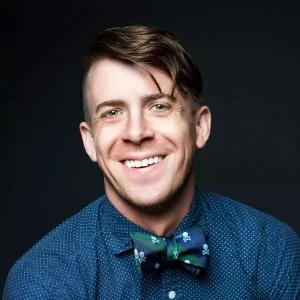 Will Van Dyke is the Music Composer for PTC's upcoming world premiere Ass. Like all projects that paused during the pandemic he started this project quite a while ago, and he currently serves as the Music Supervisor/Orchestrator/ Arranger of the hit revival of Little Shop Of Horrors Off-Broadway. Will also writes musicals, and frequently collaborates with playwright Jeff Talbott (2018's /i/ and the upcoming world premiere of The Messenger). In fact, during the shutdown some of you may remember this little ditty that Jeff and Will created for PTC.
A busy man, he is also one-half of the band Stereo Dawn!
We sat down with Will to discuss Ass, how he has been keeping busy, working with Jeff Talbott, and his thoughts on returning to PTC.
Has the music for Ass changed at all since March of 2020?
Yes! When we shut down the score was not entirely finished, so returning to this music after so long has been incredible. With this score I am really trying to lock into the percussiveness of creating sculpture, while also embodying the emotional meat of the piece. It's a really fun challenge, and I cannot wait for people to see the play and hear the music.
Any favorite projects you and Jeff Talbott worked on that you would like to mention?
Outside of our musicals we've been writing, we just released two EPs, "The Mayor," and "Forks Don't Break," which are pop songs performed by me and my band. It's been such a gift to be able to collaborate on these EPs with Jeff during the pandemic, and a great creative outlet. We also completed a few drafts of our latest musical, Ten Brave Seconds, which we are hoping to begin some serious development on this winter in New York!
What have you done to keep busy between March of 2020 and now? 
Well, everything I mentioned with Jeff Talbott. That creative partnership has really just kept hope alive for me. I have been very fortunate to be able to return to work at Little Shop of Horrors Off-Broadway in New York. There were definitely a lot of highs and lows over the past 18 months, but one thing I was able to do was finish my master's degree! I also got to work on a lot of virtual events and learn new skills doing that. So, while everything was very hard, I did my best to stay busy and productive.
What do you enjoy about returning to PTC and/or Salt Lake City?
It's such a creative atmosphere where the creation and collaborative process feel natural as opposed to forced. Getting to work in a place where you are able to paint with broad strokes and then begin to refine is really special, and not always the norm. I love the process at PTC, and can't wait to come back again soon.
Will also orchestrated and arranged Pretty Woman on Broadway and continues to supervise worldwide. Other credits include Kinky Boots, Rent, The Addams Family, Grease, and Wicked. Composer credits include: /i/ (PTC), The Gravedigger's Lullaby (TACT), Straight (Acorn), Writing Kevin Taylor (Village), The Lion King Experience titles (Disney).
For more info and music on Will Van Dyke, visit willvandyke.com or @wvdmusic.